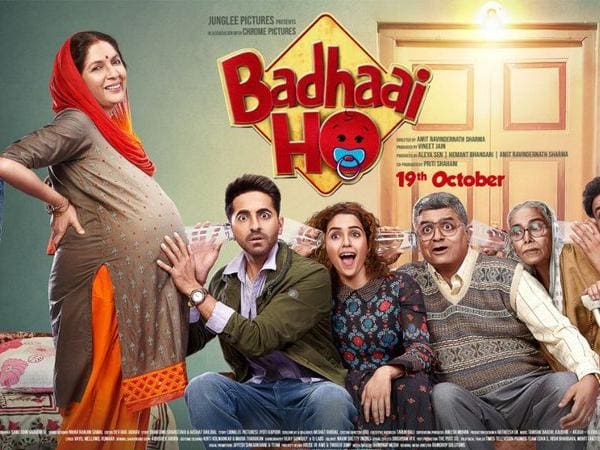 It's been 72 hours, yet the sustain of the thump of a Punjabi wedding song remains in my mind,a consequence of it being the only track on my phone that I've been listening to in the meanwhile. I've always loved Punjabi music,not that I ever did understand much of the lyrics,but there is a certain higher level of energy that it embeds that has the power to lift a few notches up on my happiness scale,make me energised, get me to perform better,be it an exam or a dance,it is a drug for me,the only drug that I take,but one that I'd proudly tell people about!
Now, you're probably wondering why I'm glorifying Punjabi music in a movie review,well, it's because I love it and this movie definitely has one with a wonderful song with a wonderful beat,it goes by the title 'Morni Banke' by Neha Kakkar. Chances are many of you do not belong to the category of Punjabi music lovers like me, hence without further ado,we shall start the review of the movie the song came from – Badhaai Ho!
Before,I start,please know that this is my review of something I love and inevitably so I will glorify it with a review but not without giving you a reason or two for the same and so we shall begin!
Much like everything I love,for me to love this movie,it had to tick some boxes. You see, I'm a very logical person that runs my life as a 'Pros & Cons' Balance Sheet to decide if anyone or anything is an asset or a liability,a skill that my mind has developed over the years and performs involuntarily.
But art and emotion has this captivating power that allures one's heart to it and distances away the mind.Much alike is this movie, something I decided on to be quite the Serotonin stimulant,a feel good hormone, thanks to the humour core it's trailer emphasises and also the fact that it was my friend Avishad's turn to buy the tickets for the movie,cause a movie a week keeps the biryani away. And so, my friend Avishad and I went for it. The theatre was almost empty , something we had only witnessed once in the past 4 months of this semester ,a period in which we watched atleast one movie a week,a ritual that we do not miss on whatsoever. And that once was quite the tragic movie that I'd limit myself to suffice saying that it was nothing short of a "bullet to the brain".
And so our hopes were partially down for hardly a quarter of the theater was full.
With a sigh of relief,we sat down on our chairs. The movie began after a whirlpool of advertisements that ate up atleast 20 minutes from the time we sat there.This being a movie review shouldn't be a spoiler article,which brings me to the conclusion that I will try to give you the review of the essence of the movie and not the storyline.
This movie started off as a full on comedy picture much like it was portrayed to be.The refreshing perspective thanks to the wonderful plot of the movie that I'm sure anyone can assume from the trailer proved worthy enough to make us laugh and literally hurt our cheek muscles.But then,the movie progressed to love, not the cheesy kind,but the warm fuzzy kind,the kind that is seen amongst family, a love that symbolises the warm cozy feeling of having a support for you no matter what,a security in the most adverse of conditions,but while all this was happening,the element of humour played in the background in a way that astonished me for I have never seen anything like it.This blend of humour and love was indeed refreshing.I have seen combination genres,a theme that has become quite a thing in the past decade with blockbusters themes including 'horror-love' as in 'The Conjuring' or 'horror-humour' as in 'Scary Movie,' but never love and humour, at least at the success rate it has and this movie nailed it! It had a perfect balance of all emotions embossed with humour, much like if the emotions were represented as a wonderfully balanced platter with the plate carrying it being humour. And that's what I loved about this movie.It has definitely become one of my favourite movies and I'd say one of the if not the best Hindi movie this year.
It's definitely worth a watch and I'd recommend it. After the movie, Avishad and I just looked at each other, and said in unison – "That was lit." Go watch the movie people and take your loved ones and family too, it's definitely an entertainer that can teach you a thing or two of the warmth love entails.