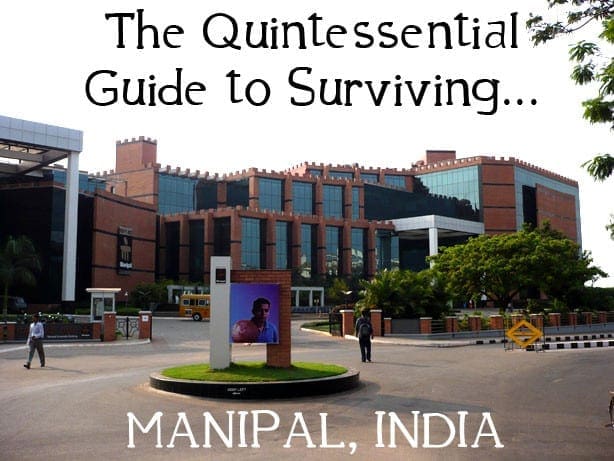 Here are some questions which usually pop up in our mailboxes everyday from prospective students, so we thought of making a list. Though most of the questions are MIT related, I've made it a point to mention if it is completely specific.
Manipal Freshers FAQ #1. When should I arrive at Manipal?
Depending on your course and date of commencement of classes, you can come 1-2 days in advance.
Manipal Freshers FAQ #2. Is it necessary for my parents to come to the orientation?
That is left to you but officially there is no procedure involving parents, though most of the times parents do go with to help them settle/shift into hostels.
Manipal Freshers FAQ #3. What all things should I carry?
We have compiled a list of all possible things you'll have to get from home and the things you can buy easily here.
Manipal Freshers FAQ #4. There are a lot of messes around, which one should I join?
All the messes are almost same by the quality of food they provide, but as you are new to the college and it's time to make new friends/meet people, we personally advice you to join the MIT Food Court. It's a co-ed mess and a good place to meet up and hang around KC area. For those of you particular about Vegetarian Food- Apoorva (8th Block) is the only VEG mess here for the boys while Ananya is the only girls VEG mess.
Manipal Freshers FAQ #5. What's the rule about getting my own 2 Wheeler to campus?
All mechanized means of transport are banned inside the campus and there's actually no need of any vehicle inside the campus as the college has bus facilities within campus. But if you have a relative staying outside, you might as well keep the vehicle parked there. I wouldn't recommend a bike/car in the first year.
Manipal Freshers FAQ #6. How far is Mangalore from Manipal?
Mangalore is 65 km from here and you have regular buses plying from Manipal to Mangalore. The Karnataka State Road Transport Corporation has started Air Conditioned Volvo buses from Manipal to Mangalore every half an hour, so getting there is not difficult.
Also read the How To Reach article for more info.
Manipal Freshers FAQ #7. What sports facilities are provided to MU students?
The Manipal University gives utmost importance to sports which is the reason behind setting up MARENA. MARENA is the sports complex which is situated next to the Valley View compound and has indoor basketball, futsal, badminton, tennis courts and a swimming pool. It also houses a sprawling gym which is spread over an entire floor of the building.
The End Point sports complex is another place where you can enjoy a game of football or cricket. There are lush grounds with Flood lights, hence playing once dark is always more fun.
MIT students can also use the 10th block field and the MIT cricket, hockey fields to play in the evenings. Shantala grounds can also be used to play cricket.
There are also tennis and badminton courts in the MIT campus near the 9th block. Table tennis boards are there in every hostel block and 14th blocks (A, B, C, D) have more than one TT tables.
Manipal Freshers FAQ #8. I'd like to keep myself fit by going to the gym. What gym facilities are present around?
There are a lot of gyms around the campus and there are some good ones inside campus. The MIT gym is located at Kamath circle (KC) and though old, it's a good one. There is one inside the 13th Block (Girls Hostel).The MARENA gym is quite expensive but considering the hydraulic equipment they have, I personally think it is worth the price. Among other gyms outside campus there is the Valley View gym/Slim-Gym/A1 etc.
Manipal Freshers FAQ #9. I have joined BE in MIT. Which cycle do I come under?
There are 2 cycles in the first year. Half of the batch is under physics cycle and the other half is under chemistry cycle. The ones who have physics cycle in the first semester will have Chemistry cycle in their second and vice versa. There are 2 common subjects in both physics and chemistry cycles and the rest are cycle specific subjects.
Manipal Freshers FAQ #10. I have joined the BE course in MIT. What kind of uniforms is needed in the first year?
MIT BE students are required to take up workshop practice as a part of the first year syllabus. This subject comes under the physics cycle.
Each week you'll have three hours of workshop practice and for this you'll need a khaki uniform. The specifications are same for boys and girls, khaki trouser (girls are normally allowed jeans) and formal half sleeved shirt also khaki (mandatory for girls too).
There are tailors who stitch those here, but if you have a lot of time back home, get one pair stitched for yourself.
Manipal Freshers FAQ #11. What about bank accounts and all?
The university has a tie up with State Bank of India and provides each student with an account with SBI which you might have already got. They also give a combo card which can be used as an ATM as well as ID card. This card can also be used to get cashless treatment for some diseases at KMC, Manipal. The Combo Card is extremely important as entrance to the Library/IC/EDU Building is only permitted on showing your Combo Card.
Manipal Freshers FAQ #12. I've heard that there is a lot of ragging in Manipal. Is it true?
No. The fact that the university has made strict rules against ragging and the SC directive which bans ragging has helped a lot to curb ragging inside campus. Also, there is a strict rule of no interaction between juniors and seniors for the first three months. Though if you lurk around outside the campus, you might be picked by a senior for a simple ragging session, it's more fun than ragging so try and enjoy it yourself.
Ragging now involves introduction (sometimes in Hindi) and naach-gaana and nothing more than that. This also helps the seniors and juniors to interact and get to know each other well, as you don't want to spend a whole semester inside your hostel rooms. There's a lot to do here and without seniors, you'll find a hard time around.
Manipal Freshers FAQ #13. What about Dress Code in MIT?
Officially you are expected to wear decent clothes to college. Saying that, make sure you keep one set of formal wear and don't worry much about the dress code. You can wear anything you want, just don't look awkward. However shorts/skirts are not allowed to class or inside the Library/IC/EDU etc. Also refrain from wearing t-shirts with one liners/provocative statements; the teachers don't appreciate it too much.
Manipal Freshers FAQ #14. I have wait listed for some branches in MIT, when can I expect the wait-list status to change?
Once you wait-list yourself for any of the branches in MIT (either the Manipal or Jaipur campuses), you'll be given a wait-list number for those branches. And as soon as other university counseling processes start, students start giving up admission in MIT after which the wait-list will start decreasing.
Students are given a choice to opt out of MIT until one month from the date of commencement of classes, so if you're really determined to join MIT, please wait patiently.
Manipal Freshers FAQ #15. When will we receive our Laptops? And what configuration?
Laptops are usually given to students after a month from the date of commencement of classes, generally after the first sessionals. This is usually done because some students leave the college and the last date will be around a month from the date of commencement of classes so once admissions are made final, you will get your laptops.
And about the configuration, the list will be put up soon on the hostel section notice board. You can see them as soon as college starts.
You can see the configuration of the laptops over the years:
Manipal University, MIT, Laptop 2013 Configuration and Details
Manipal University Laptop 2014 Configuration and Details
Manipal Freshers FAQ #16. Where can I buy textbooks?
Textbooks for first years can be purchased at the stationery store next to the SBI ATM inside the college campus. You can also buy textbooks beforehand online or at your own convenience as the books are usually pre prescribed.
You can also buy second-hand books from Kamat Bookstore which is located on the road behind the 5th,6th Blocks.