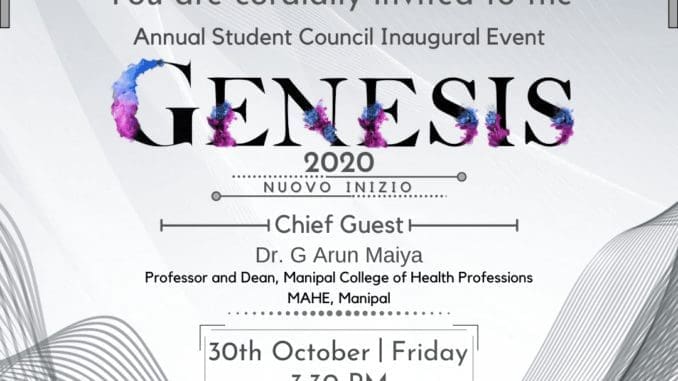 Success is measured by our ability to adapt to changes in real times. Genesis 2020, organized by the student council of Manipal College of Pharmaceutical Sciences(MCOPS) on October 30, 2020, was an example of this adaptability. This event's main objective was to introduce the core council of MCOPS 2020 and welcome their freshers batch as they began a colorful four years in the institute. Purbasha and Anushka, the evening hosts, carried out the event very smoothly and wonderfully put together.
The event began with a divine invocation song by one of the fellow students, Roopa Acharya, followed by a tribute to Vice Principal Late Dr. Sreenivasa Reddy. Dr. Reddy's students and colleagues admired him for his devotion to them. He characterizes as one of the most "beloved people to have ever walked the halls of MCOPS." The event's chief guest was Dr. Arun Maiya, Professor, and Dean, Chief of Centre for Diabetic Foot Care and Research, Department of Physiotherapy, MCHP, MAHE, Manipal. After the chief guest addressed the gathering, they introduced the student council batch of 2020. They presented the audience to the Academic Council, Cultural Council, Editorial Board, Sports Council, CDC, SEC, and I2C. Once the council was made familiar, the President, Shrawal Kotian, expressed his delight and eagerness to make the year's best. The formal event concluded with the vote of thanks delivered by Vice President of the student council, Gursimran Kaur.
The informal event began with a virtual cultural program by the students who helped break the monotony and further brightened the event. There were interactive transitions between the cultural performances and various videos presented by the college to enhance the college experience. The students achieved this by having a fun conversation, further intriguing the audience, and not losing interest through the event. The students of MCOPS shared their views and experiences about college life at MCOPS, thus encouraging and welcoming their freshers batch.
Given the unfortunate circumstances under which Genesis 2020 took place, it was a successful event. It was a joyful evening for all the members who attended this fantastic session.