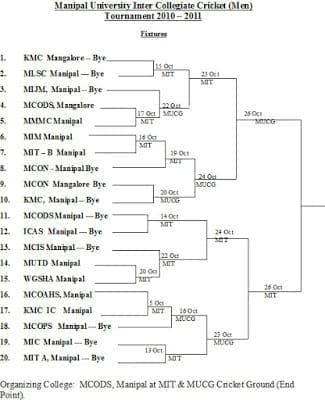 Manipal College of Dental Sciences, Manipal will be organizing the Manipal University Inter Collegiate Cricket Tournament from 5th October 2010.
Rules & Regulations FOR MANIPAL UNIVERSITY INTER COLLEGIATE CRICKET TOURNAMENT – 2010 – 2011
GENERAL: The matches will be of one-day duration and will be played on 40 over a side basis (Final will be played on 50 over a side basis).
Each bowler can bowl a maximum of 8 over only.
(1) Hours of play: Reporting Time – 9.00 am
Toss – 9.30 am
First Session – 9.45 am to 12.30 pm
Lunch – 12.30 pm to 1.30 pm
Second Session – 1.30 pm to 4.15 pm
In case of delayed start lunch interval will be taken in between two innings after 1st innings is completed. The lunch hour internal will be of a minimum 20 minutes and shall be decided by umpires.
(2) Reporting Late: Any team reporting late for any reason.
(i) One over will be reduced for every 4 minutes delay.
(ii) The opposite team will get full quota of over.
(iii) If a team does not report even after 60 minutes from the reporting time, it will forfeit the match and will not be permitted to take further part in the tournament.
(3) Drinks: There shall be only one drinks interval per session not exceeding 5 minutes.
(i) No players including batsmen, fielders or substitutes shall enter the playing area without prior permission of umpires for any reason during the drinks interval or when play is stopped for any extraneous reasons.
(ii) No players from batting side or fielding side including Managers/Executives of teams shall enter the playing area without prior permission of umpires during drinks intervals or any unscheduled stoppage of play.
(iii) Over Penalty: (a) Each team shall bowl a minimum of 15 over per hour of play on an average. For each over bowled short the penalty will be "TWICE THE RUN RATE" obtained by the batting side and same shall be added to the total of batting side at the end of innings.
(b) Fractions are to be ignored in all calculations regarding the number of
over. Fraction of an over bowled shall be reckoned as a full over.
(4) Interrupted, Delayed, Matches due to weather ground conditions:
(a) In case of delayed start of play, the object is to re-arrange the number of over, so that both the team have equal number of over to play with in scheduled hours of play.
(b) For a match to be completed a minimum of 25 over have to be available for both the teams.
(c) The calculation of re-arranged over shall be based on the rate of 4 minutes per over in the total time available for play within the scheduled hours of play
RESULT:
I If the team batting second does not get the full quota of 40 over, or
II In case of "RE-ARRANGED MATCH" also if the team batting second does not get the full quota of re-arranged over the following rules shall apply to obtain a RESULT.
(a) The team having a better over all run rate shall be declared winners.
(b) If still undecided the team loosing lesser number of wickets shall be the winners.
(c) If still undecided then it shall be decided by the spin of coin in the presence of umpires except in the finals; where the TROPHY shall be shared by both the teams.
NOTE: In case of a tie also the above rules shall be applicable.
The interpretation of these rules and their construction and effect shall rest with the organizer of these tournaments and ruling given by them shall be conclusive, final and binding on players and the participating institutions.
The Laws of Cricket (2000 code) issued by B.C.C.I. will be referred for the tournaments for all practical purposes.
(5) Any misbehavior of the team players will lead to disciplinary action and their team will be debarred from the Tournament.
(6) Field restriction will be implemented up to 12 over's.
(7) Team has to wear white & white.
(8) Any protest will be accepted with protest fee of Rs. 500/- within 30 minutes of the completion of the match.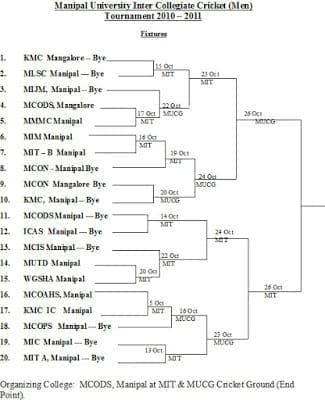 Manipal University Inter Collegiate Cricket Tournament 2010 – Click To Enlarge