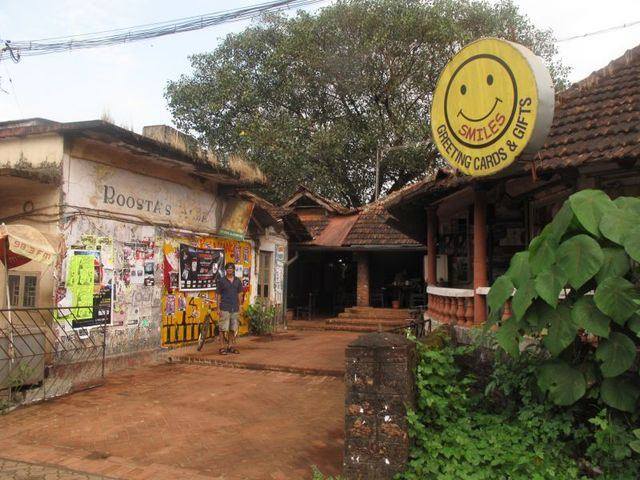 Manipal has so many restaurants that it caters to all the taste buds. Many restaurants are seasonal and fold up within a couple of years. Here we've listed a few snapshots of the Manipal restaurants that have stood the test of time.
Basil Cafe
Princess Kirthi Behind Manipal Edu Building
Phone: 08204293284
The numero uno Manipal restaurant for your first date to  you want the "sophisticated" date feel. The general food taste is different from any other place in Manipal. Awesome desserts to be had at the end with great continental main course before it and a quiet environment, no wonder the place is usually full of couples. This place gives you a more "lets eat out tonight" feel than any other place though it does cost you more too.
Food: 8/10
Service: 6/10
Value for Money: 7/10
Editor's Choice: Paneer Fajita, Irish Coffee, Biscuit Pudding.
Planet Cafe
Premier Court, End Point Road Perampalli N.K. Marga.
Phone: 08202572454 / 08202571269
There's no great shakes about the decor of this place, but it has a good ambiance. It is generally visited by the students fraternity, and it is open up to at least around 1.30 am. They mainly rely on home deliveries for business. This place generally serves pizza's burgers, hot dogs, shakes, and some other drinks (non-alcoholic).
Food: 6/10
Service: 5/10
Value for Money: 8/10
Editor's Choice: Oreo Milkshake, Fish Burger, Barbeque chicken hot dog.
China Valley
Mandavi Palace End Point Road  576104
Phone: +91-820-429-3788
This is the only exclusively Chinese Restaurant in the town and the trick here is to order. Their dishes can be pretty unexceptional. They also have hookah on the menu and pretty interesting setting for it. The tables for hookah are set outside in the open under eclectic umbrellas. Their hookah could be better. Service is average as well. Some of the dishes are absolutely top-notch which make this place a favorite among the few. I would recommend you to eat using chopsticks here for a wholesome Chinese restaurant.
Food: 8/10
Service: 8/10
Value for Money: 8/10
Editor's Choice: Chicken Hot Pan, American Chopsuey
Dollops
Near State Bank of India, Tiger Circle, Manipal 576104
Phone: 08202570908
For some very weird reason, this place is more thronged by the freshers than anyone else. With a slightly off-the-cuff taste to their food, it has an eclectic ambiance with posters of rock-gods adorning the wall and good background albeit sometimes too loud music always. But beware what you order here. Choosing the right dishes on the menu is the trick to having a good dining experience. With items varying from finger-licking to the absolute mediocre if you do order something "different", then pray to the gods to be with you. Definitely lighter on the pocket, you will be greeted with the sight of people waiting outside almost always.
Food: 7.5/10
Service: 7/10
Value For money: 8.5/10
Editor's Choice – Chicken Lollypop, Cantonese Chicken, and Manchurian Fried Rice.
Parota Point
Near Hotel Ashlesh, Ishwar Nagar, Manipal 576104
Mob: 9449663357
Two words. Cheap Dinner. As many people will tell you why they are going there, if they don't mention that they are broke, then they are lying. You can easily fill your stomach in less than 60 bucks and still revel in the fact that you "ate out". This is not to say that its impossible to end up spending 150 bucks here either. With a variety of parathas on the menu, there is something for everyone. Plastic chairs and tables with that bright orange ketchup kept on each; you will surely find yourself playing with the bottle at least once because the service is slow. Very Slow. If the place is even 3/4th full, you might end up waiting for more than 30 mins for two paranthas. So we recommend, whenever you go there order everything in one go. Otherwise you might not be hungry for a second serve. P.S.  One of their waiters is an expert at remembering the order. We once witnessed him remember the order of 8 people at one table in one go. Also, if you do order butter chicken, then it will be chicken on orange gravy with two big pieces of butter on top.
Food: 7/10
Service: 4/10
Value for Money:  8/10
Hangyo Saiba
Near Shirdi Sai Babab Cancer Hospital, Tiger Circle, Manipal,  576104
Phone: 08206524802
Mob: 8088618937
Hands down the best Indian foods available in Manipal, there are people who swear by it and religiously go there once a week at least. But who can blame them? The food is good. A simple fact that proves this is that if you do turn up there for dinner at the well, usual dining hours you will be slapped with a waiting of at least 15 minutes. But kudos to the staff, we have never heard anyone complain about the waiting period going over 30 minutes. If you are the good old Indian who likes their butter chicken (or butter paneer for the veggies) with butter naan and dal then this has to be your landmark. With tables placed very close to each other, you might just hear the most hilarious piece of conversation on the table next to you.
Food:  9/10
Service: 8.5/10
Value for Money: 9/10
Editor's Choice – Butter Chicken, Chicken Patyala, Chicken Fried Rice with Dal Makhni, Kashmiri Paneer