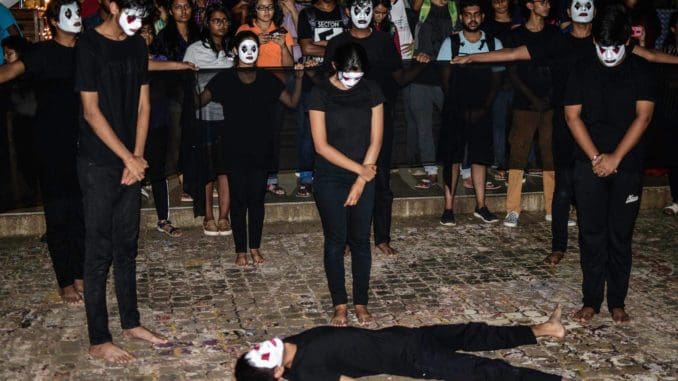 A compendium of gesticulations, expressions and body movements were carried out with utmost passion and dedication by Ada, the dramatics team of MIT on the 30th October,2019 outside FC-1 around 8:00pm.
The team of 8 adorned blacks with white painted faces ,swayed silently to the beats of the music, which was a perfect blend of foot tapping-mime rhythms turning the environment spooky and ghastly as ever. The 10 min rendition showed a mix of emotions which included anger, pain, madness, obsession, hypnosis and power lust as an introduction to Ada's upcoming main production of the year- Sherlock Holmes-The Hound of Baskervilles to be showcased on 2nd November at Fortune Valley Inn. The Assistant Directors, Ishaan and Aman took about 6 days to execute this successful performance which highlighted the main events of the 60 min. play to be performed on the 2nd as a 'live trailer' described by them.
So Ladies and Gentlemen, get ready to witness the main production with the Hound of the Witch and the killing of the Baskerville as the ace sleuth Sherlock walks through the wooden-ladle before you all! 
Photos by Sitanshu Sah
Edited By Hrishit Roy