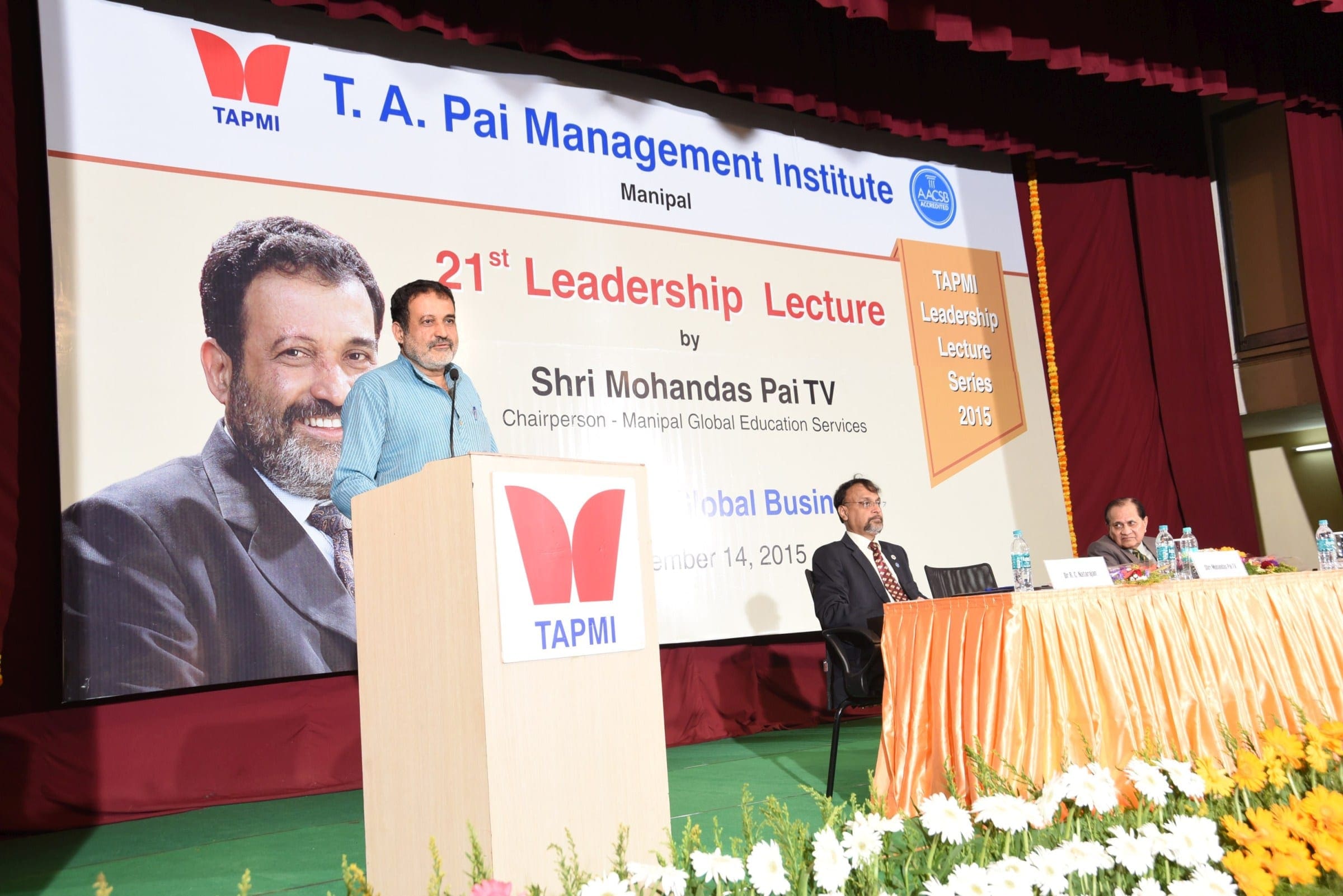 ?The invention of the steam engine was a major turning point in history enabling cotton exported from India to be converted into textiles in mills in the UK and then transported to various ports to be shipped to Europe and other countries,? said Mr. T.V. Mohandas Pai, Chairman, Manipal Global Education Services. Delivering the 21st Leadership Lecture here on the topic, ?Disrupting Global Business?, he narrated how trade across the countries had started 5 – 6 centuries ago and turned into a global trade after big wars like World War-I and World War-II. These wars had significant impacts on the world economy and made the United States and Russia major economies post war era. The destruction of the empires, innovation in technologies and rapid increase in trade completely changed the world economy.
In the present scenario, according to Mr. T.V. Mohandas Pai, the first and the most disruptive change in global economy is the innovation of the internet. It has not only connected business but also connected 7 billion people around the world. This digitalized the world in the form of e-commerce which has disrupted the global supply chain and made the world one single market place. Mr. T.V. Mohandas Pai argued that the most important element for the successful global trade is the robust supply chain. He also mentioned the importance of 3-D printing and robotics which have substantially disrupted the traditional manufacturing system, but this has also reduced the job creation because of the introduction of automation. Now, the market place needs more skilled workers rather than unskilled ones.
According to Mr. T.V. Mohandas Pai, the second most disruptive change in the world economy would be the energy sector. He mentioned the recent wars and instability of the Middle East which are the major sources of oil energy which had forced disruptive innovation of shell oil production in the U.S. But for him, the major disruption in the energy sector would be the solar technology.
He carried forward his chain of thoughts regarding disruption and mentioned the importance of the disrupting capital which has significantly impacted the financial world. He defined ?disrupting capital? as the printing of money by the U.S., China, Japan, and ECB after the Global financial crisis of 2007-2008. He argued that the excess amount of this liquidity has further created more capital for innovative disruptive ideas.
Mr. T.V. Mohandas Pai ended his speech by saying that all these changes around the world is disrupting the global business. He said, ?Pace of change has accelerated and no one can escape it; by 2030 the world will be a different place.?