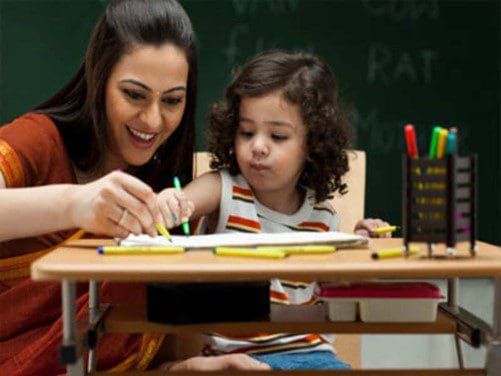 Every parent wants the best for his child. Play school is the child's first interaction outside the house. Thus, it comes as no surprise that you are supremely cautious about the one you pick. But how can you find the best play schools in chennai from home? Well, your problem is no longer an issue now. ProEves promises to bring a complete one-stop platform of all the leading play schools in the city. Thus, you can now sift through a long list without having to leave your home's comfort.
What makes a play school the best?
The teaching staff must be empathetic and qualified.
A school is nothing without its teachers. Thus, you must pick a play school where the teachers understand your child's needs. Every child is different and needs individual attention at a young age. Teachers should make lesson plans and help your child to cope with the new environment. A play school is unique for the child, where he meets new faces and people for the first time. Additionally, teachers must be appropriately qualified to handle toddlers.
The playschool must combine play and learning.
Playschools are not only about playing. They must provide the child with a unique combination of sports and learning. Every activity should be planned accordingly. Teachers must pay extra attention to the learning implications. Playschools are where children form basic concepts of colors, texture, and weight.
Consequently, teachers can find online exercises. Maria Montessori is a firm believer in learning through play mechanism. Thus, it would help if you were looking for a play school where you have such principles. You can refer to the curriculum online or ask previous students.
Who does the child get to interact with?
A child gets to interact with new teachers, staff members, and other students in the playschool. It is his first step towards socialization and learning—interaction and effective communication form the base of our personality. Good experiences can instill confidence in the child, while bad experiences can completely demotivate him. Moreover, bad experiences can also lead to problems such as stuttering, lisping, or stammering.
It would help if you were looking for a school where a child gets an all-round development opportunity. He must be exposed to different people and must start making friends from a young age. Parents can help a child in developing empathy and ethical behavior towards everyone.
What facilities are you most likely to get?
You must engage in a thorough examination of the facilities that the school promises to deliver. It refers to the games they stock, the equipment they use, and the overall hygiene of the building. For example, you can not send your child to a school that is dirty and has water-logged toilets. Your child's health is your priority. Thus, you must follow this checklist when you are looking for the best play schools in chennai. Since there are so many schools in the city, ProEves helps you to choose a select few that meet your requirement guidelines. Then you can interact with the individual schools and learn more. The final decision lies with you!
How is the campus?
Last but not least, the playschool campus is also prestigious. You should not send your child to a play school that is too congested or shut. It must be airy and have ample scope for cross ventilation. Psychologically, fresh air and natural sounds help to develop concentration and allow the growth of a new perspective. Additionally, an open garden can help the child to play more and engage in several physical activities.
The playschool must be spacious to accommodate the number of children they promise to teach. Moreover, they should also cater to necessary medical facilities because they are dealing with small children who are yet to distinguish between right and wrong. Teachers must always be alert to avoid accidents.
Thus, if you are looking for the best play schools in chennai that tick each of the boxes mentioned above, then you must refer to ProEves. They list verified schools and provide authentic information. Moreover, you may also filter your options according to your fees budget, the area you want to live in, and more. The useful website is a few clicks away. They understand that your child deserves the best and plays a significant role in helping you achieve that.