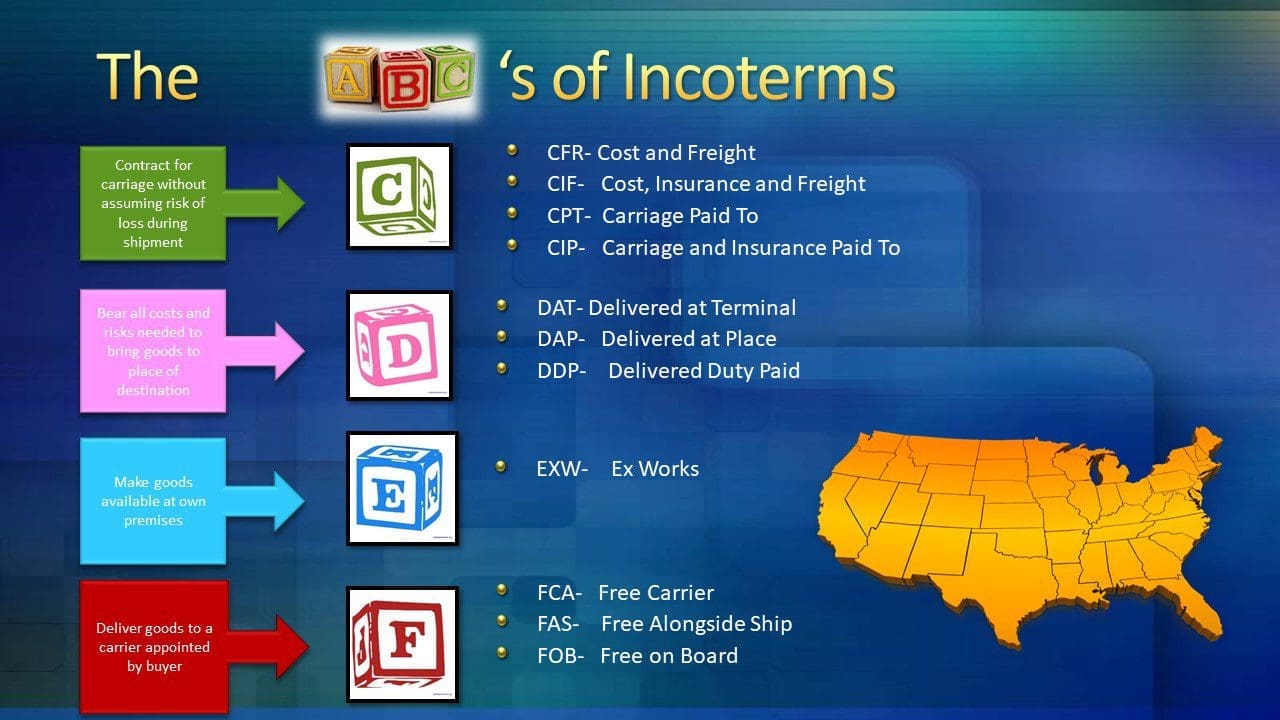 The international trade industry is one giant hub of importers, exporters, and shippers from all around the world. It is run by loyal partnerships between two traders of different countries who are divided by geographical boundaries and language. In fact, the rules and regulations of freight shipments are also different in almost every country. All these differences can possibly lead to miscommunications or mismanagement between the parties. To bring a solution to these most probable problems, the International Commerce Terms, most commonly referred to as "Incoterms" is issued by the ICC (International Chamber of Commerce).
The Incoterms are registered trademark of the ICC and are accepted by legal authorities, governments, and trade practitioners all around the world for interpreting the most common rules and guidelines of international trade. To understand the meaning & significance of all the Incoterms 2020, refer to this website.
How Can Incoterms Be Helpful To Traders?
The whole purpose of issuing Incoterms is to facilitate easy and clear trade instructions. The latest edition is the ninth set which consists of 11 defined rules under Incoterm 2020. Prior knowledge of these terms can help a trader in many ways.
Easy Communication
Incoterms are used in trade contracts and legal documents to specify the delivery instructions of the freight shipment. All the terms hold a specific meaning which is clear to every party who is aware of it. This enables easy communication between importers and exporters who are from different countries and use different languages. The fact that English is not the official language of all the countries is also the reason why Incoterms 2020 are so important.
Clear Instructions
Every Incoterm is used for giving clear instructions. If a trader does not know the meaning of even one of the 11 predefined terms, it can lead to miscommunication. For a trader to be successful and competitive, it is important for him to stay ahead of everyone else. In such a scenario, ill-knowledge of such an important set of guidelines can be disastrous. Thus, every member of the shipping industry must understand Incoterms 2020 accurately.
Establish Strong Business Relations
Failure of good communication skills can lead to disturbed trade relations. And in order to enhance that skill, one should have sufficient information. Incoterms help in doing so because they are used very frequently in the trade industry. For instance, the incoterm EXW (Ex-Works) means the named place of delivery of a freight shipment. Now, if a trader is unaware of its implication, it can completely misguide him.
The worst outcome might be the delivery of freight to the wrong destination. How disastrous this can be for one's trade relations in the market? Thus, a well-informed trader will always have the benefit of knowledge.
Eliminate Chances Of Errors
Miscommunication is mostly caused due to differences in the medium of speech. Suppose an Indian exporter is trying to give trade instructions to an African importer. Here, if the importer does not understand English properly, he can misinterpret the given instructions. These kinds of errors were very common before the introduction of Incoterms.
The Incoterms define delivery instructions and risk liabilities which is why it can potentially eliminate the chances of errors. A trader can only hope to succeed if he does not make common errors which can be avoided easily.
What Are The Changes In Incoterms 2020?
Incoterms 2020 was officially brought into effect on 1st January'20. The new updates in this edition are:
DAT has been replaced by DPU: The Incoterm DAT (Delivery At Terminal) is omitted from the new set of 11 rules. DPU (Delivery at Place Unloaded) is added in order to fulfill the demand for delivery at a particular place instead of a terminal.
Increased insurance cover under CIF and CIP: The CIP (Carriage and Insurance Paid) and CIF (Cost Insurance and Freight) rules now instruct higher insurance cover than earlier.
Better security: Better and more advanced security guidelines have been added in Incoterms 2020 under articles A4, A7, and A9/B9.
Arrangements of transportation: The new instructions under the Incoterms FCA, DAP, DDU, DPU mention that the importers and exporters can use their own means of transportation for delivery of freight if they wish to.
Precise clarity on costs: Cost allocation rules under article A9/B9 have also been revised by the ICC.
Issue of Bill of Lading: Earlier, the ships were reportedly not issuing the Bill of Lading to the intermediaries involved in the process of shipment. This rule has been revised under the FCA rule in Incoterms 2020.
Incoterms have been a very helpful tool for traders across the world. Its utmost utilization can definitely uplift the trade experience of almost all the parties involved in international trade.