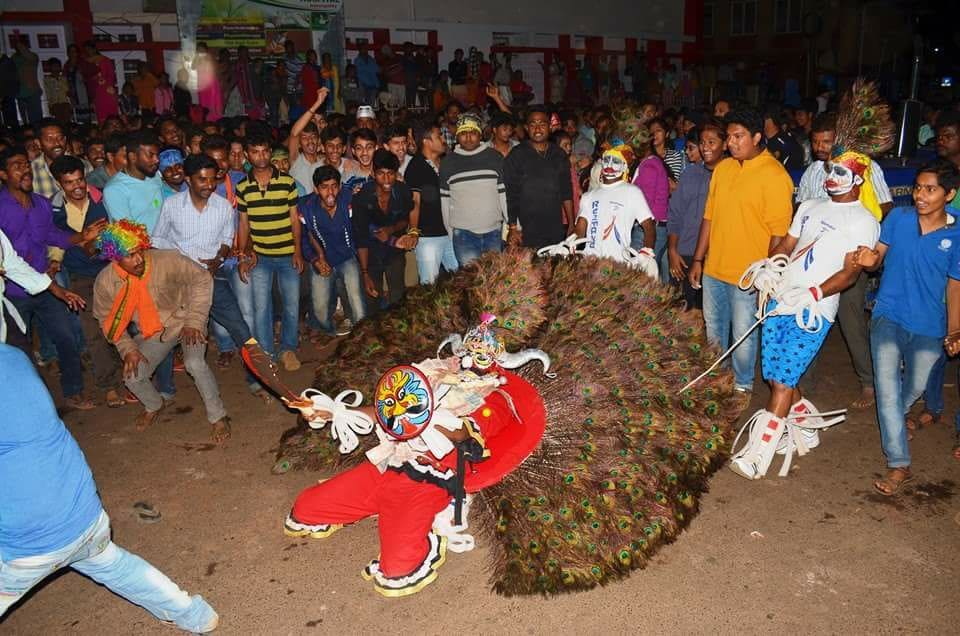 Karnataka is a cradle of civilization, a storehouse of vast cultural wealth. Home of diverse people with rich cultural heritage having common bonds, Karnataka is a living example of unity in diversity. Modern culture in Karnataka, is broadly believed to be based on the Vedic culture.
The Hunter's dance performed during Holi festival, is mostly for entertainment. The dancer is made up as a hunter with peacock feathers, a sword and a shield. When he dances, the audience too becomes a part of the dance. The pleasures and pains of life in the sibs of the soil find expressions through folk arts either during Holi (harvest) time or during their spare times, which provides them a respite and sense of peace in their hard-working life. Folk arts came into existence in the backdrop of worshiping God. These art forms have generally remained in the background owing to their eclipse by the newly found western influences. All folk arts are not of the same type. While some art forms are instrument-dominated, some are vocal music-dominated and others, action and expression-dominated.
Some folk forms seem completely reserved for entertainment purposes only and some others have attained the status of religious rituals.
Even though the art forms like Bhootharadhana, Naagamandala, Harige Seva, Nad Tandalu Devru are religious rituals, they all have been recognized as folk arts only because they involve the use of drum beats and dancing. Though art forms like harvest (Holi) dancing, step-dancing, stage-dancing, dancing of brave children and 'Mari' dancing, all appear to belong to the same group, we find many differences in their presentation because of religious diversities.
Folk art is the backbone of rural life. The songs involved are just like bhajans of prayer songs to propitiate God. Through their songs and dances these folk artistes offer a medium to educate and tell the rural people by glorifying the greatness of God through pious stories from Puranas.
That the harvest dance is performed mostly for entertainment purposes at the time of Holi festival is known to all of us. The colorful and artistic `Hunter's Dance' is restricted to some particular areas of Uttara Kannada this is largely performed in Sirsi Taluk only.
The dress and makeup of the artiste is very colourful, attractive and gorgeous. He wears a headgear, embedded with pearls and stuck with peacock feathers. He wears red coloured streaks on eye brows and his face is pained with white and black spots. He flaunts a thick moustache and black and white colour straps on his beard. Like a warrior, he carries a sword in his right hand and a shield in the left. Red cloth covers his arms and a flower garland adorns his neck. He also carries a wheel-shaped decorative form made of peacock feathers on his back. The belt that he wears is bedecked with small bells and he also carried bell son his ankles. This is the `hunter' all in eye-catching colours nad a weird attire. When the artiste dances in different styles to the beat of drums, the audience too, invariably become a part of it, body, mind and soul. Such is the fatal attraction of the hunter's dance!
In order to ensure that the hunter dances without losing his rhythm, a rope is tied round the waist of the artist, and it is held by 3 or 4 people. These people follow the route taken up by the artiste.