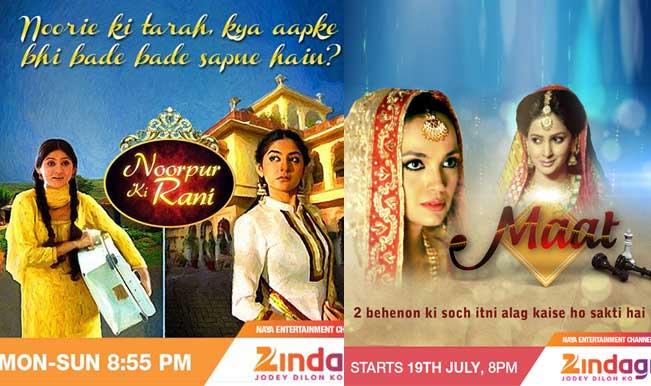 Despite the suggestive name; I am about to talk of something that is pretty harmless and totally above-board. Zindagi is a channel floated by Zee Media and now happens to be one of the most watched channels on Indian Telly. So what is the big deal? Deal is that the content is provided by a clutch of Pakistani (yes!!!) channels most likely HUM and ARY digital.
The very suggestion anything is of Pakistani origin can put me off including cuisine, music and even good-looking women ;) . For example I remember feeling awful when I realised that a beautiful song from the movie Zeher was actually sung by a Pakistani band JAL.
Thus after having endured the tyranny of repeating sounds on Indian telly shows and the bizarrely medieval mindsets cloaked in gaudy red vermilion, I can't blame the fact people have flocked to watch shows from across the border. So what is the big draw?
I think I recently read this article on Women's empowerment on Manipal Blog and I wanted to throw in my hat into the debate albeit differently.
Even though Pakistan is as close to a failed state as there ever can be, there is no denying that a progressive India where premarital sex is no longer taboo churns out on prime time shows that denigrate women. I mean beyond just the costumes and regressive attitudes peddled, there is always the vamp who reinforces the male chauvinism no end. Her willingness to do anything for the GUY makes you nauseous and shakes your faith in India's progress on gender issues. Also these shows pander to the same paternalistic instincts that lie at the root of the horrendous gender inequalities that plague our society. It's just not enough to show a mirror; its about projecting an alternative.
The contrast can't be more stark. Shows from the across the LOC, not only successfully expose the deep-rooted bias, but, also have a tendency to portray strong feminine characters challenging them. It almost seems that something is just not right. I so hope the Indian creative people come up with more human and real stories instead of short films that make you believe that sex and profanity are the keys to empowerment.
About the author: Satyam Kapoor is an alumnus of Kasturba Medical College, Mangalore, Batch 2003.  He is a pediatrician who has completed his Post-graduation from DMC and Hospital, Ludhiana. Happy go lucky, avid reader and a mommys' favorite Pediatrician is how he would like to describe himself.