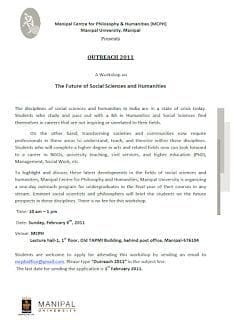 MCPH is organizing a program for final year under graduate (BA, BSc, BE) students interested in Social Sciences and Humanities entitled "The Future of Social Sciences and Humanities."
The disciplines of social sciences and humanities in India are in a state of crisis today. Students who study and pass out with a BA in Humanities and Social Sciences find themselves in careers that are not inspiring or unrelated to their fields.

On the other hand, transforming societies and communities now require professionals in these areas to understand, teach, and theorize within these disciplines. Students who will complete a higher degree in arts and related fields now can look forward to a career in NGOs, university teaching, civil services, and higher education (PhD), Management, Social Work, etc.
To highlight and discuss these latest developments in the fields of social sciences and humanities, Manipal Centre for Philosophy and Humanities, Manipal University is organizing a one-day outreach program for undergraduates in the final year of their courses in any stream. Eminent social scientists and philosophers will brief the students on the future prospects in these disciplines. There is no fee for this workshop.
Time: 10 am – 1 pm
Date: Sunday, February 6th, 2011
Venue: MCPH Lecture hall-1, 1st floor, Old TAPMI Building, behind post office, Manipal-576104
Students are welcome to apply for attending this workshop by sending an email to [email protected]. Please type "Outreach 2011" in the subject line.
The last date for sending the application is 1st February 2011.