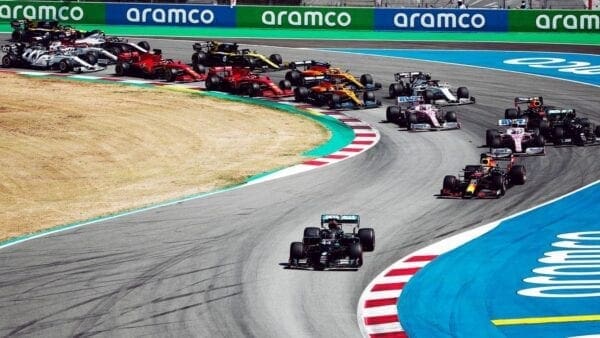 Going into Spain, Red Bull was aiming for a win this weekend. All was set in Verstappen's favor, as the Dutch racer overtook Hamilton in lap 1 and held on to the lead for a good chunk of time at the start of the race. Unfortunately, Mercedes' mind games and strategic pitstops put Hamilton on top to claim checkered flag on Sunday. Tire wear and loss of grip saw Verstappen lose seconds each lap to eventually fall down a position. Failing to match the second pitstop in time, the old rubber was struggling to keep up pace and grip throughout corners.
A short weekend for Tsunoda
A Q1 exit this weekend, plus negative feedback from Yuki, sums up the start of the race for this rookie AlphaTauri driver, as, lap 9 saw his car come to a stuttering halt bringing his weekend to an early end. This was the only retirement this week.
Bottas locks horns with Hamilton, again
Bottas was once again instructed to let Hamilton pass to gain second place on his chase after Verstappen, but the 31-year-old Finn refused to budge and drove defensively, making Hamilton lose a few seconds, albeit it did not matter in the end. After the race, Bottas commented saying that he is 'Not here to let people by.' He was focused on his race and did not appreciate the constant "team racing" that he has been asked to do over the past few seasons.
The battle in the middle order
It is a battle between McLaren and Ferrari for third place this year as Leclerc and Norris have been putting up solid points week after week. Due to a bad finish in Q3, Norris failed to finish top 5, but his teammate Ricciardo, made up for him by finishing the race in sixth, just above his Ferrari rival, Sainz. Leclerc once again put in a solid race, finishing 4th. Haas still seems to not be able to figure themselves out as they, once again finish bottom of the table.
Where do they stand now
Mercedes are comfortably on top right now and will be till the end of the season, unless Red Bull's number 2, Perez can climb up into a podium finish. Verstappen has been constantly finishing at the podium and this has put Red Bull confidently in second place, with almost twice the points of McLaren, who is now in P3. Ferrari are right behind, fighting for that spot with just 5 points to differentiate both these teams. With better finishes from Sainz and consistency from Leclerc, the battle for P3 is a must watch this season. Haas, Williams and Alfa Romeo are yet to get off the mark while Aston Martin is struggling to find a foothold to climb up the ladder against AlphaTauri and Alpine. Currently, Hamilton is leading the drivers championship, with Verstappen right on his tail.