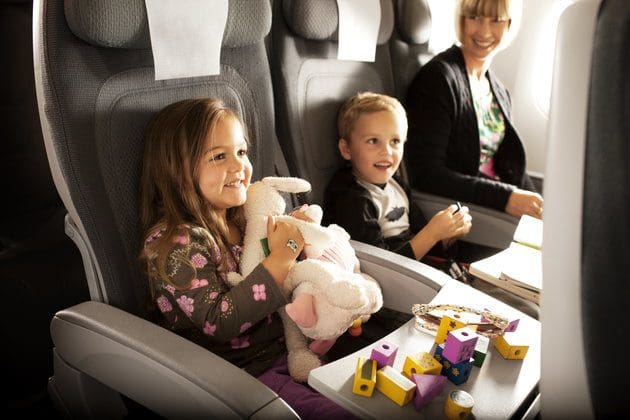 Flying with your children soon? Practical tips for parents who are planning to fly with their children.
Planning to take an airplane trip with your child? You've probably thought of everything, but here are some practical tips for those who've never attempted this new type of adventure before.
make your reservations early. You can secure the best seats for your party by making plans weeks in advance, where you'll get a good rate and a wide selection of seats.
try to get a non-stop flight. It is so much easier to stay on the same plane, even for hours, than to have to disembark and find a new gate. Children are difficult to rush, especially when they are tired.
make your arrangements for a flight early in the day. Most of the very early flights, even though difficult to get to with children, are less full than those leaving from 9:30 a.m. on.
try not to fly on a holiday weekend. Crammed airports and airplanes will add to your stress.
flying in the middle of the week is easiest, as business travelers are a bit less during those days.
assess whether you really want the bulkhead seat. There's not too much storage space, although there is plenty of leg room. You'll also be right near the rest room line, which might prove to be an annoyance.
order special kids' meals for your children. These foods are usually more appetizing to your child's palate.
check all the luggage you can. You don't want to board the plane, children in tow, and then have to find storage space.
put snacks, toys, books, etc. in a backpack. This is easily transportable and leaves your hands free to hold your child's hand.
no need to board the plane early. Consider waiting a while to board and not necessarily taking advantage of the preboarding access for young children traveling. The extra time they are spending on the plane as others board is time that you'll have to entertain them. It is sometimes easier to simply keep sitting on the chairs outside the gate.
have fun! Traveling with children is (really!) a wonderful experience. Just plan ahead!