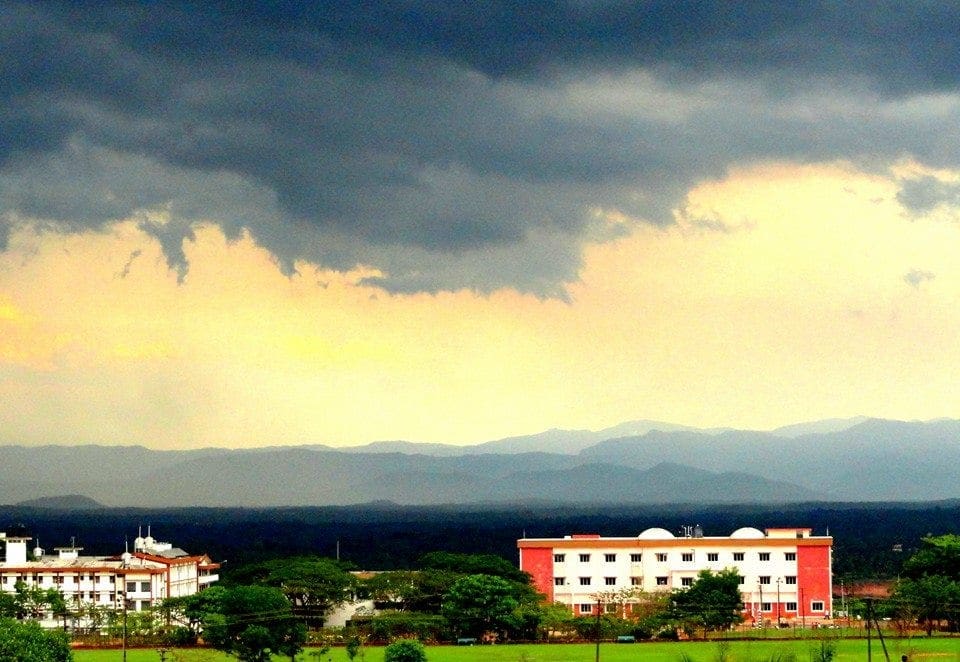 The clock struck midnight, 10th July 2018 was finally here. A day I had waited for, and here I was exhausted in bed after having moved into my new apartment in Manipal. Sleep is something one has in abundance during vacations and even more when you happen to drop out of your engineering college mid-semester. The very thought that I wasn't able to sleep one bit before the day of my new college made me a little resentful. Wasn't this the college that would help me begin a new life learning the art of business?
The Department of Commerce, Manipal Academy of Higher Education
The alarm on my mobile phone went off at 6 in the morning. I am usually the guy who'd snooze the alarm multiple times, this time however, I got up. I went through my morning rituals judiciously as classes were to begin at 9. It was drizzling outside and I was out of the apartment by 7 AM, got on my scooter, prayed to the rain Gods to make the rain go away and call it coincidence if you may, they stopped.  It could have been because it was the first day of college or that it was for the first time I put an effort to dress sharp after the year in Engineering college.
I got on my scooter en route for breakfast at my usual place. Breakfast was devoured like a King and by 8 AM, I was at Department of Commerce. As I stepped in through the main door, I felt a chill go down my spine, not exactly nervousness, but that of confusion. There weren't anybody else there other than the guards. I thought about the way I'd introduce myself whether to just go like: Hi,this is my name, I'm from here, thanks; Or I could just go all out and be like, yeah, I'm older than all of you kids, medical college, engineering,you name it, I've been there.
Though the latter would have been cooler to me, I would end up looking like a douche. Also there was the small problem of being called "Anna" or "Bhaiyya" and God forbid "Dada", if I went with that line.
You see, Department of Commerce is my third college. I am of the firm belief that one can never know what is meant for him or her unless he or she experiences it first hand. The topic of career is of utmost importance to just choose something at random.
These were the thoughts as I glanced at my wrist to note that it was just 8:10 am. I heard footsteps approaching the chair I sat in, in what seemed to be the waiting area in the lobby. My heart started beating faster as in a minute I would be introducing myself to a potential classmate, probably a 17-year-old, who will be judging me based on my checkered past and the fact that I was a good 4 years older.
Somehow the introductions happened in a whir, a few questions unanswered and a few dodged with vague replies and what do you know, it was 8:30 already!  The guys who turned up were a bunch similar to my history, 4 of the 6 were engineers, either graduates or drop-outs like me!  I was now more at ease and calmer in the knowledge that there were many here in the same situation I was in. Of course there were the 17-year-old guys, but then I went around and made the introductions.
Section A is now my abode, a classroom with lots of wonderful people. My heart was a desert in the engineering college, but here it was an Amazonian forest, the reason was the number of girls in college. This may seem to be an exaggeration for many, but the pain of engineering boys especially those in Mechanical engineering is something no one can understand.
The teachers came and went on with the "Ice-breaker" session which did bring us out of our shells, but one could tell that some of them were just shy as expected of a 17-year-old. By the time everyone settled in, introductory lectures were completed and classes were done, the time was 12:30. The younger guys and girls just disappeared, probably to their waiting parents who had stayed back to let their kids settles in. This is a common occurrence in most colleges as the parents are hesitant to let their kids out of sight after spending years under their eyes at home.
As I left the classroom and walked towards the Venu Gopal temple gates, where I had parked my scooter, a sense of happiness and confidence blossomed in me. I now believed that my decision about business being the field for me was starting to seem more solid than ever!
Sure, coming from a science background, business subjects may be different, but I had a feeling, I'd get along well. The teachers and friends I made at the Department of Commerce, my third and (hopefully) last  college, seemed wonderful and perfect!
I kick-started my scooter and set forth towards my usual lunch place. My favorite dish made of fish would be on the menu, this time however, it would taste better due to a feeling of pride and accomplishment at discovering my true calling. I felt the same joy I think I would have felt riding a Harley Davidson Motorcycle, cruising down the highway with the shimmering sun rays on my face.
The feeling was however short-lived as it started raining and my stomach started making growling for food. I realized that some things will never change in Manipal, despite the many changes it rings in every year!
I also realized that life is what you make of it whether it be a Harley ride or a Honda Dio ride and I choose to make this ride of mine a happy one even as a fresher in my third college!
About the Author: "Engineering or Medicine" is unfortunately the only two careers known to conventional Indian Parents. Every 17 year old chooses a degree with zero knowledge of what it feels like to be in a certain career. So when our parents ask us,chances are, that most of us mess it up! But what if you had a second chance and were even miraculously lucky enough to have a third one! This is is the story of Harisankar Menon who went from a Medical college to an Engineering college to his third and new college of Department of Commerce, MAHE, where he believes he's finally found what he wants to do in life! Article by Harisankar Menon.
Edited by Vishaal Bhat.