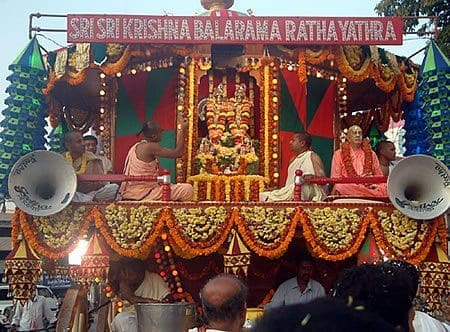 International Society for Krishna Consciousness (ISKCON) organises Sri Jagannath Rathotsava in Mangalore once in a year.
Every year, the splendidly decorated chariots of Lord Jagannath roll down the avenues of dozens of Cities across the world including Los Angeles, New York, Washington, Auckland, Calcutta, Paris and London.
As the drums and cymbals resounded in joyous celebration, people young and old including foreigners clad in saree and dhoti sing and dance in the streets of Mangalore chanting "Hare Krishna, Hare Krishna, Krishna Krishna Hare Hare Rama Hare Rama Rama Rama Hare Hare". Hundreds of devotees participate in the Rathayatra by offering pooja to the Lord. The statues of Lord Jagannatha, Baladeva and Subhadra are kept in a 30 feet high chariot which is hydraulically controlled. The procession goes through SL Lobo Road, Attavara Katte and culminates at Sri Jagannath Mandir in Attavar.
The Rathotsava is blessed by ISKCON Guru and Governing Body Commissioner Sri Jayapatala Swami Maharaj. Kirthana, bhajan and drama by devotees from across the world form the part of cultural programmes.
Another special attraction of the Rathotsava is the participation of Safari group of devotees (devotees from different countries of the world who are travelling to India's pilgrimage sites). They perform bhajan, keerthana during the procession.