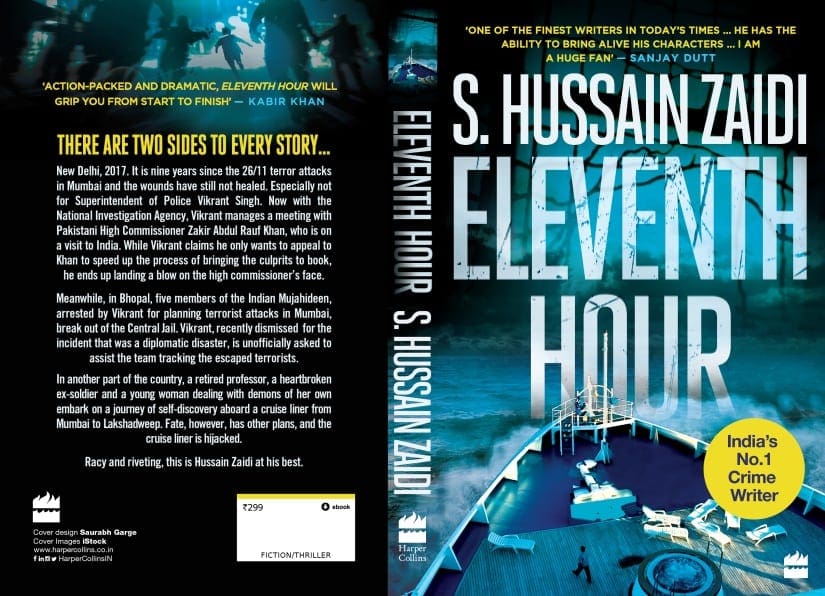 Title:  Eleventh Hour
Language: English
Author: S. Hussain Zaidi
Genre: Contemporary Fiction
Publisher: HarperCollins
ISBN-10: 9352779290
ISBN-13: 978-9352779291
Binding: Paperback
Price: Rs. 176/167 (Buy from Flipkart/Amazon)
Pages: 256
Synopsis:  Eleventh Hour is Set in the present time and Hussain Zaidi, has created an interesting and very plausible story that may have some connect to real-life events. The plot is a classic one where Indian intelligence agencies are trying to catch some escaped convicts. There's terrorism involved and references to actual events of terrorism that happened in the country. The book was a racy and riveting read, with enough twists, turns and reveals to keep me hooked for its entirety. Of course, you will have guessed a few characters early on if like me, you are into fiction. A couple of things will catch your blind side and that is where the author reveals his mastery on the genre. I am planning to now read his earlier books including Mumbai Avengers and Dongri to Dubai: Six Decades of the Mumbai Mafia.

Detailed Review:
Eleventh Hour begins with an unexpected photo taken at a hotel by a cleaner, who by chance captures the image of a bruised Pakistan High Commissioner to India. From there we are introduced to the protagonist, Vikrant, a highly decorated police officer who gave his everything in protecting Mumbai during 26/11. The story then moves on rapidly to a group of five members of the Indian Mujahideen terrorists escaping from a high security prison in Bhopal (eerily based on a similar daring escape a few years ago).
Vikrant (who was suspended for the thrashing the Pakistan high Commissioner) and his mentor Shahwaz Ali Mirza are roped in to capture the escaped terrorists and then begins a cat and mouse story. Whatever they do, Vikrant and Mirza find themselves a few steps behind the terrorists and that leads to the bigger plot involving Somali mercenaries, a hijacked Indian cruise liner and Munafiq.
Racing through Mumbai's slums, Bhopal, Nashik and Lakshadweep, the protagonist and his mentor will need to use all of their resources and brains to stop Munafiq, who seems to be present, like a Ghost at all major international terror attacks including Mumbai 26/11.
There are many interesting characters with well sketched backgrounds in Eleventh Hour.  The narrative is crisp and free-flowing. There are a couple of romantic side-stories, probably added into the story line, as an afterthought to make it more acceptable for a Bollywood movie down the line. Simple language with relatable life stories make the reading smooth.
You may guess the identity of the villain of the story very early on, but, the story keeps you hooked. There are a couple of twists in the story towards the end, which come out of the blue. The book though very good, does leave you with a sort of an anti-climax after the huge build-up. That is the only thing I did not like about this.
Eleventh Hour by Hussain Zaidi, is one of those books that makes for a light read on a rainy Manipal Sunday and that is how I enjoyed it.
Another book I similarly enjoyed was Mukul Deva's RIP.
Positives:
The biggest positive is the easy language which will keep the reader engrossed from start to finish.
The story which has every twist and turn you can imagine and more!
The story is a fictional one. Still you can find enough instances where it meets reality.
Negatives: As mentioned earlier, the anti-climax and a slightly Bollywood setting may not be liked by some.

Who will enjoy this? Everyone!!
Buy or Don't Buy? Definite buy from me.
You can buy this online from Amazon or Flipkart. Amazon is selling this book at Rs. 167 while Flipkart is selling it at Rs. 176.
Book Blurb: New Delhi, 2017. It is nine years since the 26/11 terror attacks in Mumbai and the wounds have still not healed. Especially not for Superintendent of Police Vikrant Singh, who ends up landing a slap on the High Commissioner of Pakistan's face when he meets him at an event. Meanwhile, in Bhopal, five members of the Indian Mujahideen, arrested by Vikrant, break out of the Central Jail. Vikrant, suspended for the diplomatic disaster, is unofficially asked to assist the team tracking the escaped terrorists. In another part of the country, a retired tycoon, a heartbroken ex-soldier and a young woman dealing with demons of her own embark on a journey of self-discovery aboard a cruise liner from Mumbai to Lakshadweep. Fate, however, has other plans, and the cruise liner is hijacked. Racy and riveting, this is Hussain Zaidi at his best.