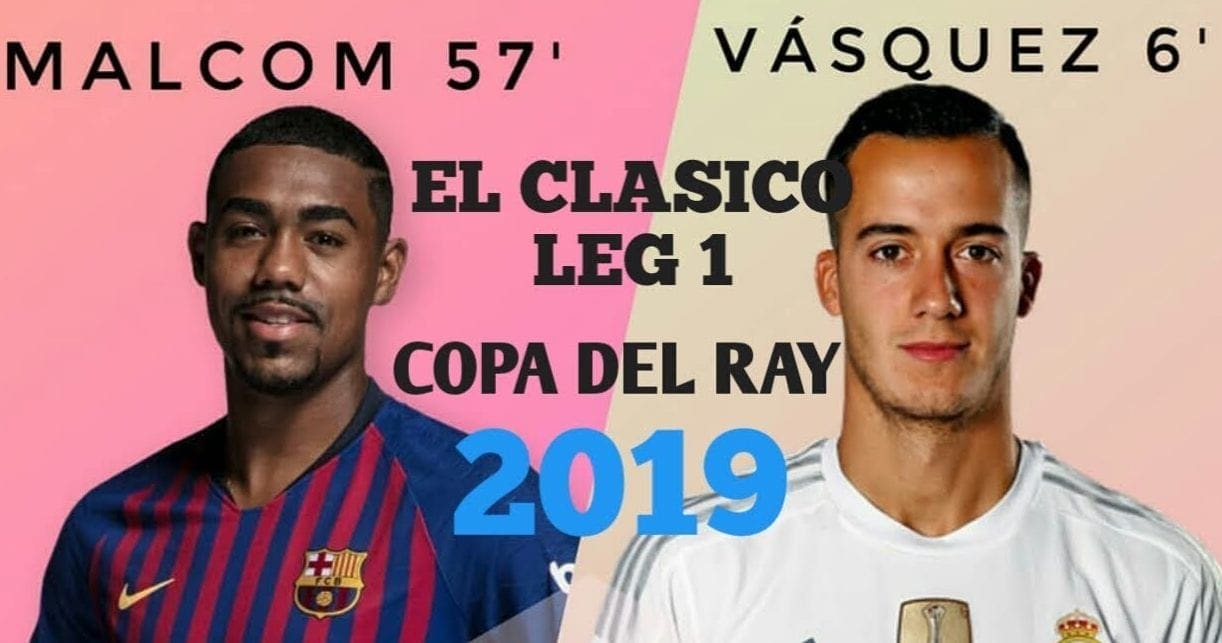 Shriya Narayanan | Staff Blogger
The much awaited game on Earth took place at the Barcelona home ground, Camp Nou, Spain, on February 7, 2019 as the prestigious clubs Real Madrid and Barcelona compete once again, in the two-game series to claim their place in the Copa Del Rey Final. It was very vital for Barcelona to win in their home ground in the first leg however for their star player, Lionel Messi the Clasico started from the bench.
The lineups for both the clubs did not include some of their key players namely, Vidal and Messi for Barcelona and Isco, Bale, Asensio for Madrid in the first half. Asensio came on for Lucas and Messi and Vidal show up in the second half. This did not stop Real from scoring a goal at the 6th minute itself. Vinicius Junior crossed into the box, Karim Benzema beautifully assisted it to Vazquez who then shot for goal. Beautifully done.
The ball was in the possession of Madrid for the better part of the first half. Barcelona's passes were as good as they had always been but they were lacking on the attacking front and seemed to come off as defensive throughout the first half.  It was a really bad first half for Barcelona but they were lucky to have just conceded a single goal.
By the time the second half kicked, Bale and Casemiro could be seen warming up. Jordi Alba could be seen missing Messi as there was nobody to run through the gaps or play one-twos with. Fans were dying for Ernesto to bring him on the field. Soon, we see the Argentine tying his shoelaces swooning the fans. But by the time this goes on, has there been a goal awarded? There was some confusion, and YES there has! Jordi Alba breaks into the area, and we see Keylor Navas rushing out of his goal trying to block him. The ball falls to Suarez who shot it off the line and  Malcom who belted another shot got the rebound, that finds the back of the net. Pheew! That was stressful for me to write and even stressful for the Madrid fans to watch. It was 1-1 now, as Barcelona equalizes. The match goes on lazily for a while and Messi does his one-twos with whoever was there. We have 23 minutes to go in the first leg. Substitutions kept happening and Messi and Suarez made a break towards his left to sub Alena, but his efforts are blocked by Dani Carvajal's superbly timed lunge. Finally, the board said '3'.
Nothing concrete and the match ended. The only good thing which happened was that Malcom would get a huge break after his goal in the second half. As much hype there was before the match, there wasn't after. But the second leg would  on 27th Feb at the Bernabeu. The draw was fair, but Madrid had the game.