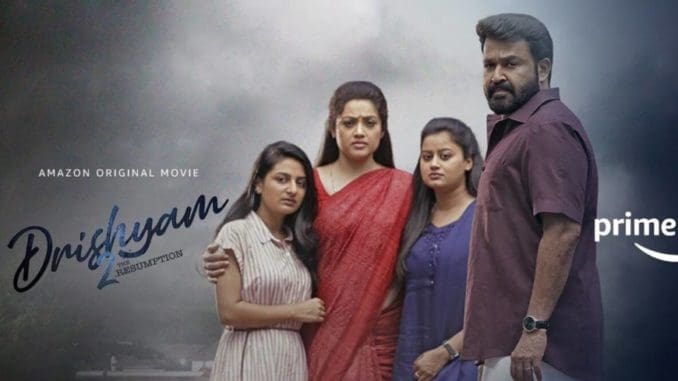 Adding to the list of Jeetu Joseph's finest – "Drishyam 2: The Resumption" has successfully set a new benchmark for Indian cinema. The movie is set to show six years post the "incident" where Georgekutty ( Mohanlal) is thrown under tremendous pressure to once again protect his family. The resurfacing of the past and re-investigation of the case only adds to the same suspense as we all experienced while watching Drishyam. 
 Initially, the audience might not see the relevance of the scenes. If in Drishyam, Georgekutty was one step ahead of everyone else, in Drishyam 2, he was twice as smart. 
While watching the movie, numerous possibilities run through the audiences' mind but the actual big reveal is nothing like it. It leaves you six times more shocked. Needless to say, Mohanlal speaks a thousand words only through his expressions and this doubled with the amazing translation of words to acting by his co-stars 
A movie that will keep the adrenaline rushing through your body, with nail-biting revelations and a "mic drop finish" to it, for those of you that haven't watched Drishyam 2 yet, this movie is a must watch! ✨ 
The movie's plot was so well written that it is the only crime thriller in recent times to have a Chinese remake. 
There are a lot of twists and turns but the biggest challenge was to connect all of them to the story of the movie while keeping intact the storyline of the original. The movie also shows the reality of what the household had to face post the incident and how every siren of a police vehicle would alarm them and take them to a dark place in their mind. It also talks about how such incidents can psychologically affect one's mind.. If you were at the edge of your seat for Grisham, this one will make you stand on your seat and be awestruck as to what happens.There are very few movies that connect dots with its prequel and the director has outdone himself in the making of "Drishyam 2: The Resumption".  After watching Drishyam, it was almost impossible to think of a sequel that would be as intriguing and phenomenal as the first part, but Drishyam 2 has managed to surpass all levels of Drishyam – from plot to production to the screenplay. While the revelations in the original were a bit slow, that helped build-up to what one would expect in the sequel – except that is not what happened.
Jeetu Jospeph's direction has brought to us a breathtaking movie, and one of the finest sequels to a movie that was thought to not be topped. 
MD Rates: 9/10
Written by: Vaishnavi Harikrishnan
Image Credits: The Indian Express