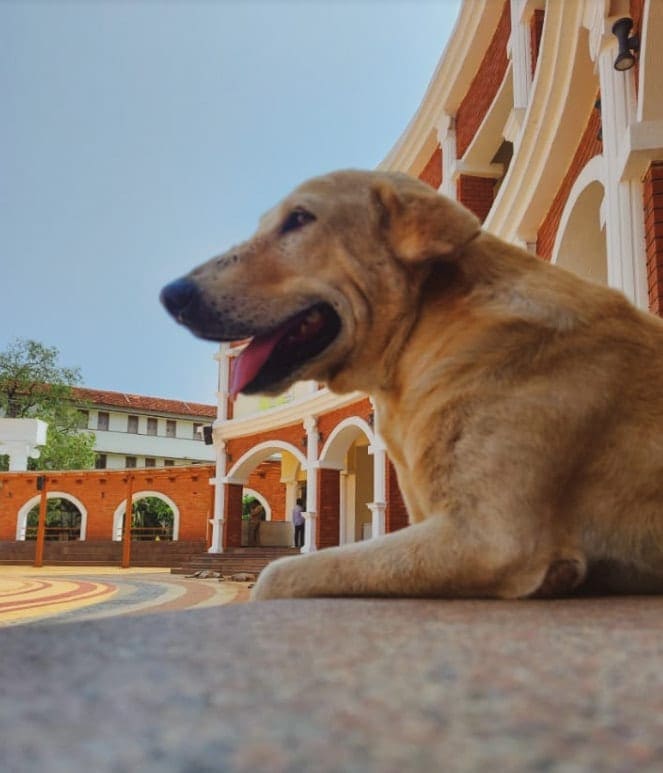 Hello Hooman,
My name is Rocky! No wait, it's Goldie or maybe Simba. Actually, it keeps changing, just like my hooman friends, who used to be with me daily at KC, my home! Everyone left as the time flew, Manipal became empty. I decided to wait patiently and finally! After so long I see so many hoomen around me again, I missed them. I see a lot of new faces too this time. It is a bright sunny day, and I am lying on my back; the warmth of the sun feels good on my skin. I see a group of people come towards me, but I am too lazy to move.
One of them bends down and rubs my tummy, and I lick his hand, showing my affection. A few other people from the group play with me and pet me for some time and leave. While I continue to enjoy my time lying in the sun, a few others come along! And this time, they give me biscuits to eat. The biscuits are yum!
I love how everyone here gives me attention and cares for me. I like playing and running around with these strangers. I have gotten familiar with all the new faces, too.
But now, suddenly, the number of familiar faces is decreasing. I do not understand where everyone is disappearing slowly. I used to look forward to seeing my friends on the days I did not feel so good. But now, they are no longer there. There are very few left. A few of them do not even look at me as they pass by. I sit here alone, waiting for those feel-good belly rubs and yummy biscuits and all the love they had to give me.
But I will faithfully wait for all of them to come back to me. I just wish they knew I am waiting for them and that I miss them.

Picture and post by @swaroop_diddi