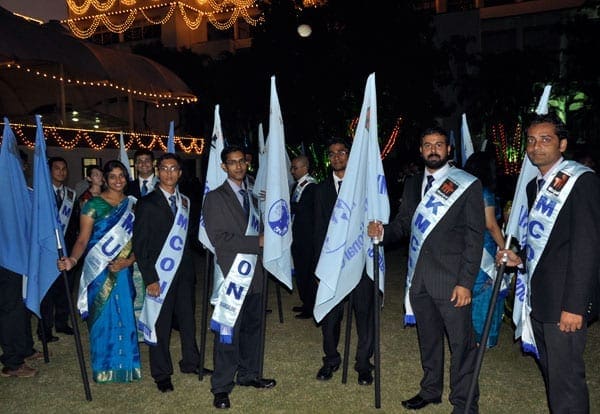 Rotaract Club of Manipal along with Rotaract club of MAHE organized Dhol Baje'19 at KMC Greens.
MAHE celebrates Dhol Baje with immense fervour and passion jumping with joy on the beats of the songs. Although the heavy rain delayed the event by four days but nothing could beat the rejoice of the students.
The KMC Greens was glitzed up with people in colourful ethnic clothes wherein the event marked its beginning with the chief guest Colonel Prakash Chandran's lighting of the lamp and felicitation speech. The chief guest joined hands in hands with the chairman and the president of Rotaract Club with a few others to play dandiya.
The theme for the 2019 fund-raising event Dhol Baje was 'Universal Education'. Ashish Anand, President, Rotaract Club of Manipal, believes in the lightning power of education and said that the main aim is to do something towards the community and also bring forth the best night to the campus. The funds generated through the event will be directed towards the development of orphanages and mental rehab schools which the team visits every Sunday. The goal is to equip them with books, smart-classrooms and help them match the pace of the world. The ticket price of 98 rupees was divided into two parts. One half was used for meeting the event expenses while the other was donated for charity.
The Blitzkrieg crew gave thrilling performance with whacking, Indian classical, hip-hop and freestyle dance. There were fashion shows by the last year Revels winner Glam & Glitz and the amazingly talented Burning Ice. Aikum Singh Bhullar, a performer from Showstoppers and a third -year student of Automobile Engineering at MIT talked about how everytime is a new experience to perform at Dhol Baje and the performances really loosen up the first-years'. Adding on to which Anisha Gupta a second year student of Manipal Institute of Communication said, "Going on stage with such a good crowd and such a good management team was amazing."
The fun and frolic event of Dandiya night was glammed more with stalls of dandiya stick and photobooth.The delightful sight of energetic light-footed young boys and girls swirling in graceful rhythmic Garba and enthusiastically playing Dandiya evoked admiration among all present there. Traditional Garba music, Dandiya numbers along with some peppy Bollywood songs kept everyone glued to the dance floor all throughout the evening till the very end of the event.
The event was concluded by announcing the 'Dandiya Tittles' and awarding prizes to the winners of the same. The students enjoyed the event thoroughly and the event was a grand success. On being asked about what brought him to Dhol Baje an international student currently interning as a researcher in Anti-Microbial Polymer at MIT said,"I got to know a guy called Harshit. He invited me to Dhol Baje, so I just came along to have a look.I am definitely enjoying, only that I am used to boozing up a little at parties."