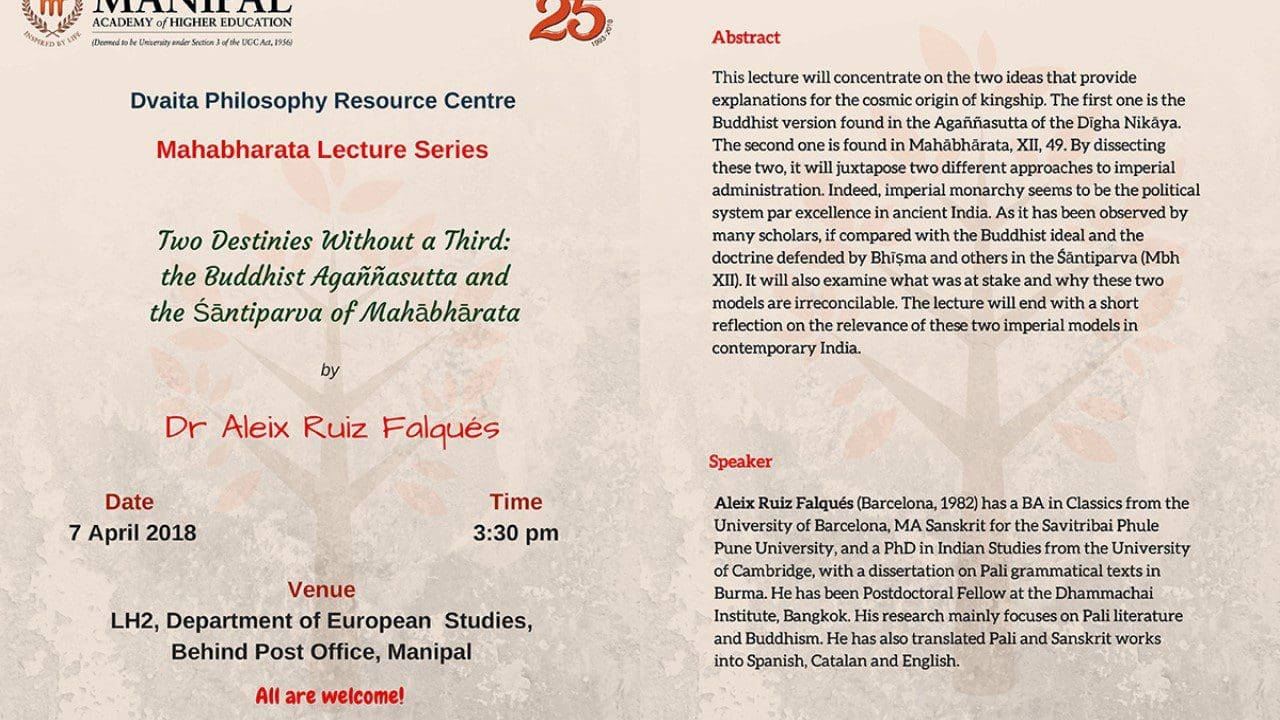 Department of Philosophy, MAHE hosted the 7th Edition of the #Mahabharata Lecture Series earlier today at the Manipal Centre for European Studies with Vidwan Lakshmisha Tolpadi delivering a lecture on Mahabharata and Philosophical Thought in the presence of His Holiness Shri Vidyaprasanna Teertha Swamiji of the Kukke Subrahmanya Matha.
The Head of the Manipal Centre for European Studies, Prof Neeta Inamdar was present along with faculty members of the Department of Philosophy, Languages and European Studies along with a host of attendees from different walks of life.
The event was hosted by Dr S Anandateertha, Senior Research Fellow and started off with the Coordinator of DOP, Mr. Srinivasan Acharya recapping the activities of the Dwaita Philosophy Resource Centre and the Mahabharata Research Project that gave birth to the 5 month old Department of Philosophy under the Faculty of Liberal Arts. The Department has been very active in the dissemination of knowledge of the ancient texts and has put it in an easily accessible platform on the mahabharata.manipal.edu website.
Guest of Honor, Dr. Neeta Inamdar appreciated and encouraged the efforts of the Department on its activities followed by His Holiness, Shri Vidyaprasanna Swamiji with the Presidential address. The Lecture got underway shortly thereafter with the resource person captivating the audience with different analogies and anecdotes that make up the crux of the Mahabharata, Dwaita Philosophy and Acharya Madhwa's teachings.
A short interactive session with the audience was scheduled afterward with Dr. Anandateertha moderating the session.