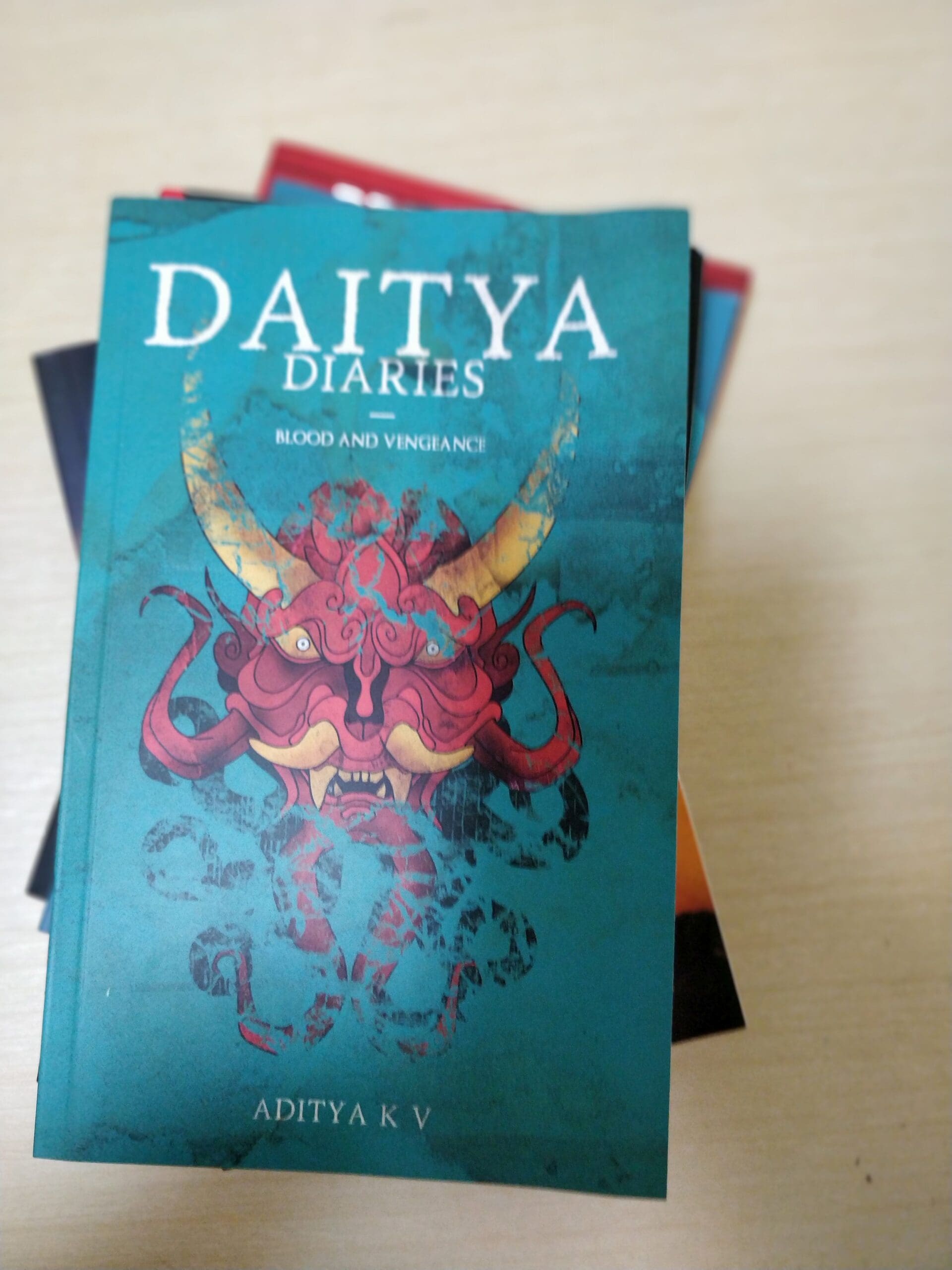 Title: Daitya Diaries – Blood and Vengeance
Language: English
Author: Aditya K V
Genre:  Fiction –   Alternative History/Mythology
Publisher: Leadstart Publishing Platinum Press
ISBN-10: 9352011376
ISBN-13: 978-9352011377
Binding: Paperback
Price: Rs. 199 (Buy from Amazon)
Pages: 198
Summary:
I find alternative mythology books very fascinating. Something like a Star Trek or Star Wars fan, who likes to dream up alternate timelines or characters that can be combined together to produce another with a blend of powers. There have been an increasing number of such alternate storylines in the recent couple of years, some that end up as not so great retelling. But with this book – Daitya Diaries – Blood and Vengeance, Aditya may have hit upon a goldmine. This book can easily end up as a series of dark fantasy novels and if a right backer can be found, a good webseries,
Book Blurb:
A man arrives at the temple town of Srisailam. He carries with him a warning to the gods. A cosmic war between the Devas and the Daityas has spilled over into the mortal world. A few years ago in the same temple town, a tour guide named Mallikarjuna finds himself being unjustly punished and sent to Naraka. At the same time, a mysterious figure challenging the Devas has been gathering resources from the annals of time to bring forth a monster that will fulfil his promise for revenge. Daitya Diaries is an exciting blend of Hindu mythology and world history. It's an adventure that takes you on a fantastical journey, through time and space. On one hand it's a story of an innocent man, punished through no fault of his own. And on the other, it is a story of a Guru, seeking vengeance after the slaughter of his students before his very eyes. It is the story of a battle against the prime forces of power, of greed and lust that rule our world today.
Detailed Review:
The prologue introducing the protagonist is a very fantastic piece of writing, very dark, foreboding, but at the same time, so descriptive that you are hooked. One of those sinister stories is what you get from the initial half of the prologue and then suddenly turns into something more – something that depicts the vastness of what human emotions can be.
The protagonist (Vaira/Mallikarjuna) has been built up well, characterizing the dual nature of existence of the final product he becomes. The mythological characters from ancient Indian texts, the Ramayana, the Mahabharata and numerous other storylines are intertwined and blended in a heady mix, that awes you.
At the heart of Daitya Diaries is the conflict between the Devas and the Daityas. The author has intertwined key historical happenings as part of this mythological conflict and thus has set upon a fascinating adventure for the reader.
Ranging from key happening sin Russia, across the central asian steppes, the vast Indian heartlands and the thugs of hindustan , to shadowy happenings in Macau, the story of Vaira has some very well written narratives. The tale of how Mallikarjuna becomes Vaira is another interesting story, immersed in mythology.
Daitya Diaries has well etched characters, prominent mythological characters and makes for some really wonderful reading.
My opinion:
Daitya Diaries is one of those books that is unputdownable and was a surprise for me.
What I liked about the book
The story flows along and there are no difficulties in understanding it.
Simple language , well etched characters and some wonderful narrative.
What I did not like about the book
The only drawback to this is that the ending seems to happen a little too rapidly, as though the author was asked to submit the story in a hurry.
Buy or Don't buy?  For those interested in Mythology/fantasy, this is a definite buy!
I give the book 4.5 out of 5. You can buy it from Amazon India  or If you reside outside India try Amazon global.($4).