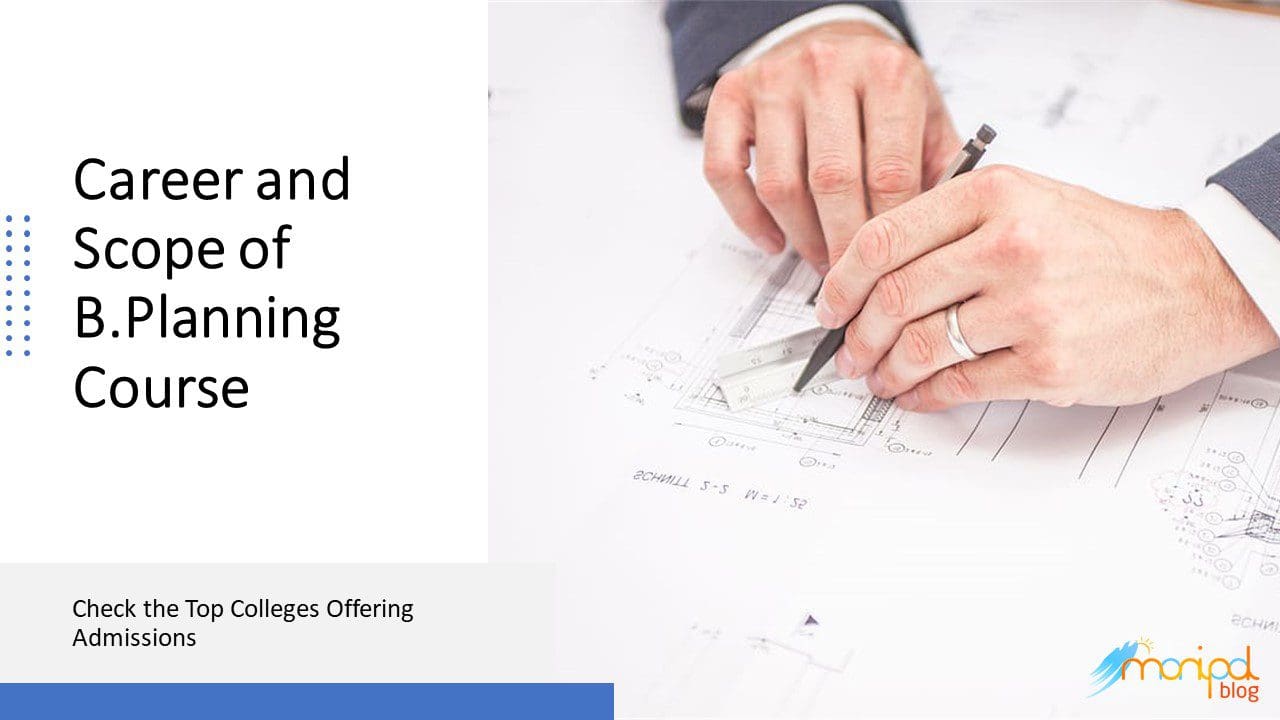 B.Planning or Bachelors in Planning is an undergraduate degree program of 4-year course duration. Students seeking admission in the program must have minimum eligibility of higher secondary certificate (10+2) with a minimum aggregate of 50% with Mathematics as a subject. This program consists of 8 semesters in all.
Admission to this course depends upon the candidate's performance in JEE Main entrance test and subsequent round of Counseling.
B.Planning: Scope and Career
People who predict themselves as Urban Planners, Regional Planner, Project Planner, Design Architect, Interior Designer etc. always land up doing this graduation course. B.Planning aims to build in students competent business through the study of Ecology, Evolution of Aesthetics, Fundamental of Regional Planning and Resources Development. This has never been a piece of cake. It involves intensive study accompanied by a research-based dissertation.
At the end of the course, the candidate should be able to make good use of the resources available and create a comfortable environment for pursuing advanced research. After completing 4 years long bachelor's course, graduates may start working as professional planners for Private or government setups. Various jobs related to urban and Town planning, Housing Schemes, Transportation projects, PWD job posts, Interior design, Construction, Architecture, etc. are a part of B. Planning career scope.
Bachelor of Planning graduates are eligible to pursue a Master of Planning as well as M.Tech and M.S.C courses.
Top Colleges Offering B.Planning Program
Check out a few top-notch colleges offering B.Planning program:
Ansal University, Gurugram
Ansal University is spread across acres of land with the best faculty. This University ranks on the top when it comes to B.Planning. Eligible candidates need to appear for the Ansal University Entrance Examination (AUEE) conducted by the Ansal University. Candidates who have a valid rank in JEE mains need not appear in AUEE.
Candidates are selected based on the Physics, Chemistry, Mathematics and English (PCME) average marks, SOP submitted, JEE mains /AUEE marks and performance in PI. The overall fee for the program is INR 842,480.
Lovely Professional University, Jalandhar
Lovely Professional University is offering a 4-year B.Planning program which has 8 semesters. This program will cost INR 98,000 per semester. Candidates must have passed 10+2 with 60% aggregate marks with English and Maths as compulsory subjects.
Course fees for International applicants except for Sri Lanka, Bhutan, Nepal & Bangladesh, is US $1950 (per semester). Course fees for International applicants applicable from Sri Lanka, Bhutan, Nepal & Bangladesh, is INR 98,000(per semester). Fees for successive semesters will be payable before the end of the teaching semester. D. Examination fee (per semester) is INR 25,000.
School of Planning and Architecture, New Delhi
School of Planning and Architecture offers degree programs at the UG, PG and PhD level. But their prior courses are Bachelor of Architecture (B.Arch) I and Bachelor of Planning. Candidates must have completed their HSC(10+2) with Mathematics as compulsory subject with a minimum aggregate of 50+ marks in 10 +2 qualifying examination.
Admission to the program is based on the candidate's performance in JEE Main. A total of 15% seats are reserved for foreign nationals, 3% NRI and person of Indian origin is 2%. They may apply along with the document proof with $300.
In-School of Planning & Architecture, there are direct campus placements which will be offered to 25% of the students. Rest of the students can be placed soon after completing the course. The average salary package offered for the course is 6 to 6.5 Lakhs per annum. Almost 100% of the students will be getting Internships.
Maulana Azad National Institute of Technology, Bhopal
Maulana Azad National Institute of Technology, Bhopal was established in 1960. It offers B.Tech, B.Arch & B.Plan courses at both UG and PG level. Admission to B.Planning courses will be done based on JEE Main score followed by JoSAA counselling. Candidates must have passed with 10+2 with Mathematics to be eligible for the B.Planning course.
The candidate should score a minimum of 75% aggregate in HSC recognised by CBSE for General category and OBC caste. For SC and ST caste, it falls up-to 65%. Candidate should get the rank 1803 at the national level and 2441 at the state level in JEE Main exam.
The total fees for this course are 5.49 lakhs for four years. Almost 96% of eligible students get recruited. The highest salary offered is 18 lakhs per annul by Amazon, IBM, Airtel, Philips, Airtel XLAB etc…
Amity Institute of Architecture and Planning, Noida
Amity is a private institute established in 2005 with a total faculty of 46 people. B.Planning is of 4 years duration with the total fees of 5.20 lakhs. This Institute is accredited by NAAC (Grade A+) and ranked 5th position for BCA. The basic eligibility in B. Planning course is a minimum 55% aggregate in Higher Secondary (10+2) with mathematics.
Amity University desires its placements in good form. No doubt the campus takes away all the attention due to its infrastructure. Top IT companies like Microsoft, IBM, Honda, Wipro recruit the candidates from Amity itself. The average placements package offered is INR 3,50,000.
So readers make a choice and finalise your destiny today itself…All the best!!!!