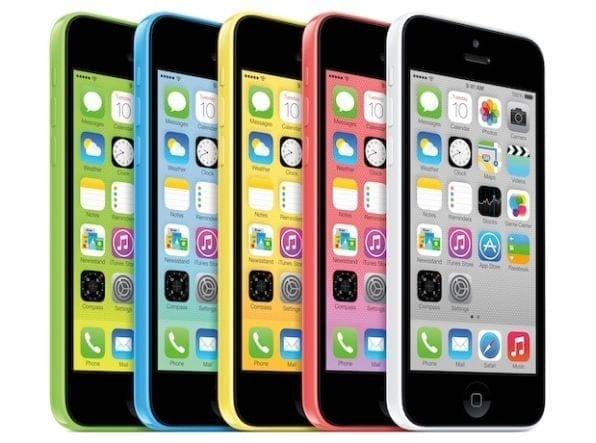 Apple released a cheaper version of its iPhone 5 series at an event at the company's headquarters in Cupertino, California, on Tuesday. The model named as iPhone 5C, comes in a plastic case and has the same features as the now-outdated iPhone 5.
The iPhone 5C has an eight-megapixel camera, A6 chip, better battery than the iPhone 5, 1.2 megapixel front camera and 4G, Bluetooth 4.0, WiFi. It has the same 8-megapixel rear camera as iPhone 5, but Apple has opted for an improved FaceTime HD camera at the front that's designed for improved video calls and self portraits.
The device has a subtly curved hard-coated polycarbonate plastic back that comes in blue, green, white, yellow, and pink. The prices however are disappointing, as iPhone 5C costs $550 off-contract – only $100 less than the iPhone 5S. This is however,  far higher than the range of $300 to $400 that many analysts believed could help Apple against lower-cost players.
With the launch of iPhone 5C, the worlds most valuable company is trying to beat rivals like Samsung, Nokia and Huw
ei in emerging markets like India and China, where it has lost ground.
At the event Apple also showcased its iPhone 5S,  which came in an  improvised version with new internals, although it sports almost the same design. It also offers some revolutionary features like an A7 chip with with 64-bit architecture and a finger print scanner.
Meanwhile, the rivals have pointed to the lack of innovation on Apple's part and simply upgrading components while still retaining the same design fundamentals.  Over the last couple of years, there is a perception that Apple has lost its innovation ability.
Nokia went on to slam the iPhone 5C, which will come in various colors, an apparent attempt to copy their multi-hued Lumia design philosophy. The model is expected to arrive in India by December 2013.
In the end, what will matter is the people's verdict. So what do you think of Apple's new mobile offerings? Is the iPhone 5s a worthy upgrade? Does the iPhone 5C make you reach for your wallet?