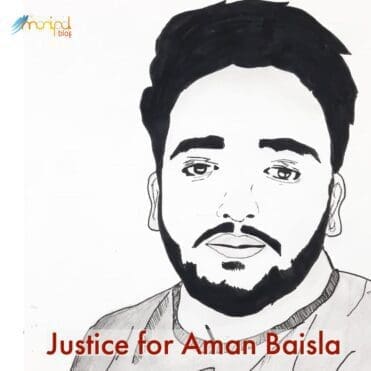 Once upon a time, there was an ordinary man. Based in Delhi, he ran a business that supplied daily-use products to hotels and restaurants. He was only 22 years old.
On 29 September, he died by suicide. He was found hanging in his office.
His name was Aman Baisla.
Aman Baisla – The Last Truth
Before taking the extreme step, Aman released a 34-minute video on Facebook titled "Last Truth," which was also fragmented into a series of six video clips on Instagram explaining his predicament. Since then, it has garnered over millions of views on social media and has been shared across various platforms.
One by one, Aman unfoiled the web of lies, deception, and fraud he was deliberately trapped into.
Neha Jindal, a former business partner of Aman, had worked with Aman in 2018 until they parted ways last year. After that, she had started working with an upcoming Haryanvi singer named Sumit Goswami.
Neha initially had borrowed 2.5 lakh rupees from Aman, then borrowed 5 lakh rupees, besides, claiming ill health of her mother. Soon afterward, Neha asked for 5 lakh rupees more but said it was meant for Sumit Goswami's father, citing health concerns, and also sent Aman the medical reports as proof. Soon afterward, both Neha and Sumit demanded more money from Aman, which he could not give as he had already lent a considerable sum of money to both of them. Due to this, Aman was in debt as he faced a few obstacles in his business.
When he asked Sumit to return the money as soon as possible, Sumit threatened him with violence. Thus, Aman was forced to refrain from claiming his own hard-earned money as his life was in apparent danger. Neha emotionally blackmailed Aman when he asked for his money back. When she came to meet Aman recently, she tore her clothes inside his car and threatened to file a false molestation and rape case against him if he did not give her an additional 10 lakh rupees by October.
Because of all the events that transpired, Aman's mental and emotional well-being declined. He could not bear the torture and harassment any longer. Deep down, Aman Baisla knew that not a single soul would believe him even if he denied the false allegations of sexual assault imposed upon him. He would be labeled as a rapist by the police, courts, media, and society. Aman Baisla knew that ultimately they would choose to believe the victim.
In his last video, Aman Baisla expressed that though he did have the desire to prosper in life, he was forced to end his life due to the grave circumstances he had been put under. He drew a parallel between his plight and the ongoing investigation in the death of late actor Sushant Singh Rajput citing, "When Sushant Singh Rajput isn't getting justice, how would I get it?"
Aman Baisla had explicitly shown substantial proof supporting his statements with bona fide documents of both the accused, recorded exchanges between them in the form of audios, videos, and screenshots of messages in the "Last Truth" series of videos he posted on Instagram before his suicide.
An innocent man can lose his career, family, relations, and all his possessions he worked hard for because of a woman wrongfully accusing him of sexual harassment for her own material gains. He would be treated as an outcast in the very society where it takes years to bring justice for a survivor of rape. 
Losing Faith in Justice
Aman Baisla had lost faith in a system where sometimes, the accused is guilty until proven innocent. Had Aman been alive, he definitely would have been subjected to media trials and tribulations speculating the accuracy of his statements and evidence, which would have been twisted to the point where it suited Neha Jindal's alleged survivor narrative, when in actuality, the real victim here was Aman Baisla himself.
It is a fact that an enormous number of survivors of rape, molestation, and domestic abuse are women, and a significant portion of them fear from lodging a report due to the humiliation and social stigma they face in a conservative victim-blaming society. The rate of total crimes against women in India is 62.4 percent according to the latest National Crimes Records Bureau (NCRB) report.
However, a woman misusing the law and provisions specifically created to protect her for her own material advantage is a woman who puts the final nail in the coffins of the actual people who needs these laws to protect them from suffering. It is quite a paradox that the fight for justice for a rape victim may take years to succeed, yet it perhaps takes a day to taint an innocent man's entire reputation forever. Raising false accusations, after all, is an act of character assassination and a form of defamation.
And all the more, what is disheartening is that incorrect assumptions about false rape accusations make it more likely for a person who reports the rape to be blamed or disbelieved. It is important to note that false allegations of rape often trivialize or dismiss the seriousness of rape and eclipses the voices and stories of actual survivors. However, the rise in false rape cases being reported cannot be used as a justification to intentionally demean and dehumanize rape victims or digress from their narrative. It also should not be an argument to demonize women in general.
Furthermore, it is wrong to discredit and shun the work of activists and feminists who have fought for a good cause and dismiss the reality of India's prevailing rape culture. The concept of feminism, in the most basic terms, is a range of social and political movements and ideologies to define and establish the political, economic, personal, and social equality of the sexes. It has nothing to do with female supremacy and male-bashing.
On the other hand, there is a need to shed light on victims of false accusations. It is not talked about often and is shoved under a carpet. If we were to truly talk about justice, let justice prevail for the victims irrespective of their gender and sex. We need to call for more stringent and gender-neutral laws that do not allow deliberate misuse and damage innocent lives.