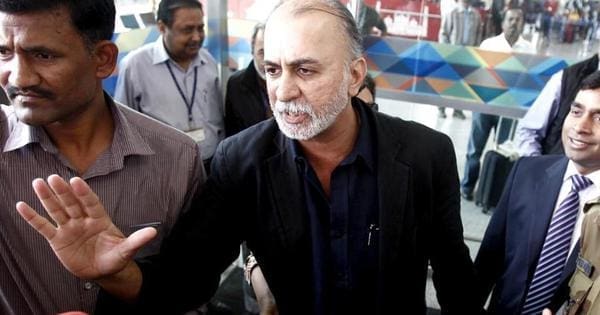 "It is extremely revealing that the prosecutrix's (victim) account neither demonstrates any kind of normative behavior on her own part – that a prosecutrix of sexual assault on consecutive two nights might plausibly show nor does it show any such behavior on the part of the accused."
—- Special Judge Kshama Joshi extensively commented on the woman's non-rape victim-like behavior and faulty investigation in her 527-page decision to grant Tarun Tejpal the benefit of the doubt.
What is the Tarun Tejpal Case About?

A case that drew public attention in 2013 due to the extraordinary status of the accused and the allegations leveled against him. After more than 7 years, the rape case against a well-known Indian journalist, Tarun Tejpal, has recently made headlines. However, nothing is surprising given the history of delayed justice in rape cases and other litigations.
Tarun Tejpal was accused of sexual assault by a female colleague in a luxury hotel elevator in November 2013. The incident occurred during Tehelka's Think festival, which was held at a five-star hotel in Goa's Bambolim. Tejpal resigned as Tehelka's editor-in-chief just days after the allegations were made public. However, the Goa Police launched an investigation into the case and arrested Tejpal on November 30. Yet he was granted bail in July 2014.
A case reported in 2013 has started its Trial in September 2017 and then it has been extended by the accused. Several claims were made by Tarun Tejpal against the charges labeled by the victim, declaring it invalid. The judicature responded to his plea in 2019 and rejected it. Hence, the trial was directed to start again.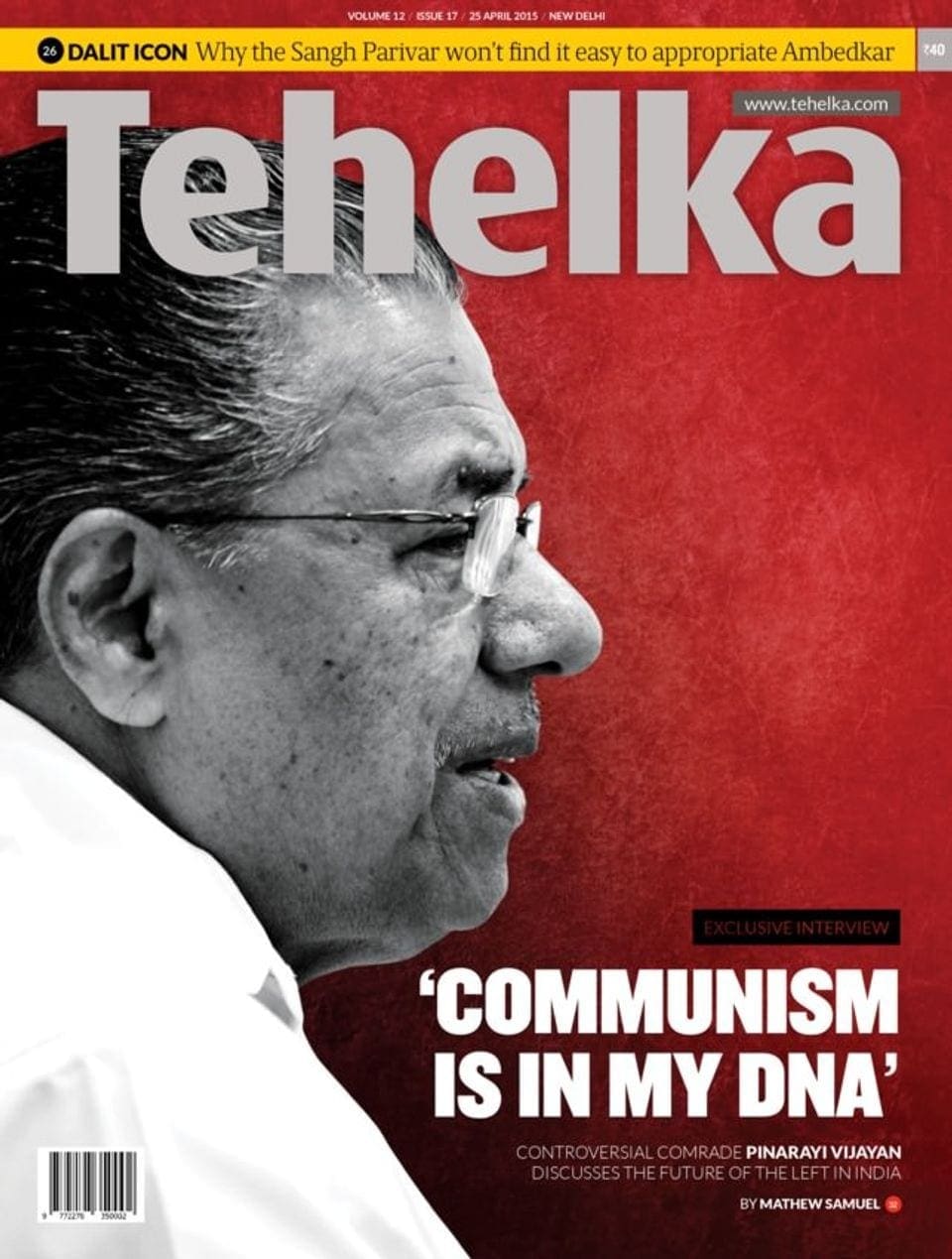 Cases slapped against Tarun Tejpal

Tarun Tejpal faced trial under IPC sections 341 (wrongful restraint), 342 (wrongful confinement), 354 (assault or criminal force with intent to outrage modesty), 354-A (sexual harassment), 354-B (assault or use of criminal force to woman with intent to disrobe), 376(2)(f) (person in a position of authority over women, committing rape) and 376(2)k) (rape by a person in a position of control).
The Goa crime branch had filed a charge sheet against Tejpal, who has been out on bail since May 2014.
Why suddenly everyone seems to be concerned about a 7-years-old case
The issue here is much broader: women's honor and self-esteem in a country plagued by patriarchy and rampant misogyny.
In the eyes of judge Kshama Joshi, Indian women are expected to be submissive weaklings who, if violated, must exhibit a visibly shattered demeanor and consider themselves socially dead.
If this decision shows anything, it is how regressive and stereotypical notions – the result of centuries of socio-cultural conditioning buried deep in the collective subconscious – shape the so-called procedural aspects of the law.
More importantly, the statement made in the judgment is the most terrifying part. The survivor did not exhibit the type of behavior that a victim of sexual assault is expected to exhibit, which was a key reason for acquittal in the judgment.
Justice Kshama Joshi wrote in her judgment that the photographs taken shortly after the alleged assault predict the opposite, as the young woman was "smiling and looked happy, normal, in a good mood.
She did not look disturbed, reserved, terrified, or traumatized in any way even though this was immediately after she claims to have been sexually assaulted," the judge wrote in a 527-page judgment.
According to the judge's reasoning, if a victim does not conform to that fictitious norm and instead is strong-willed enough to maintain her composure despite her trauma, her complaint must be false.
The ferocity of the statement in the judgment has shaken the safety and hope of the county's other women. Everything boils down to one question: what is the appropriate behavior for a rape victim?
Expert's view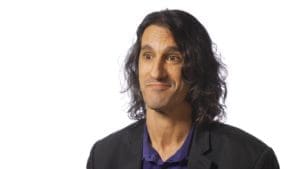 As anthropologist Agustín Fuentes argues, the 'myth' of the 'normal' extinguishes the variation (biological and behavioral) that is at the core of our species' ability to evolve and adapt to different challenges.
Most laypeople's perceptions of rape and the victim's post-rape behavior are formed and shaped by hearsay, their upbringing's socio-cultural milieu, familial values, or what they see in Indian films.
While judges should know better, it is unfortunate but not surprising – given the enormous influence that film visual imagery has on the collective subconscious – that their decisions reflect this lay ideology rather than any judicial mind.
Morality on trial
Aparna Bhat & Ors v. State of Madhya Pradesh held that courts should refrain from commenting on the conduct. Pappu @ Yunus (2004), has held that the survivor's past has no relevance: "Even if the victim in a given case has been promiscuous in her sexual behavior earlier, she has a right to refuse to submit herself to sexual intercourse to anyone and everyone because she is not a vulnerable object or prey for being sexually assaulted by anyone and everyone."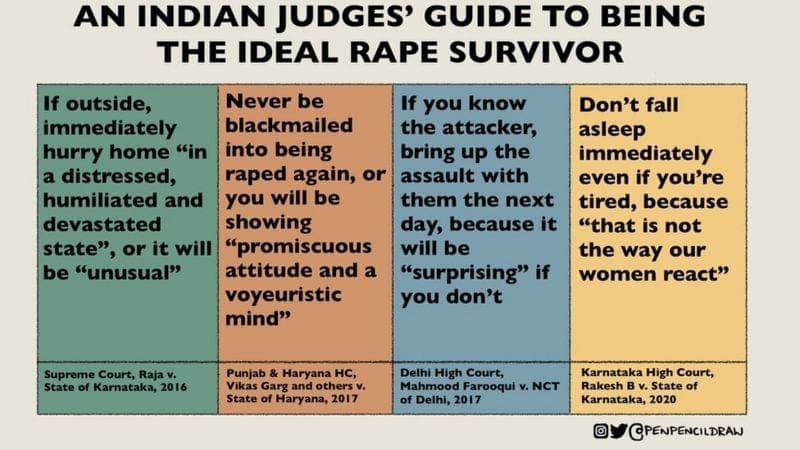 Aparna Bhat, a Delhi-based lawyer, acknowledged that Mr. Tejpal's defense was "entitled to put forth its best case" and it was "for the judge to control it". But, she said, "here the judge seems to actively slander the woman. The entire judgment has assaulted the victim".
"There are some demeaning references to the young woman, absurd inferences drawn about how certain physical behavior as stated by her was not probable, that she was chatting with others she had had previous casual sexual encounters with and it goes on," Ms. Bhat said.
The entire judgment was "a consistent chain of innuendo showcasing the young woman as someone who engages in sexual escapades", she added.
Another lawyer, Payal Chawla, said the judgment was "not just character assassination, it's a massacre of her character". "The woman partying in a bar and dancing with a drink in her hand seemed to have irked the judge. It seems like the young woman's morality was on trial, and not whether there had been a rape," Ms. Chawla said.
There is no similar examination of Tarun Tejpal's past to determine whether or not what he did was in character. One has to wonder whether the judge thought she was trying the 'accused' or the 'prosecutrix.'
Supreme Court: The savior?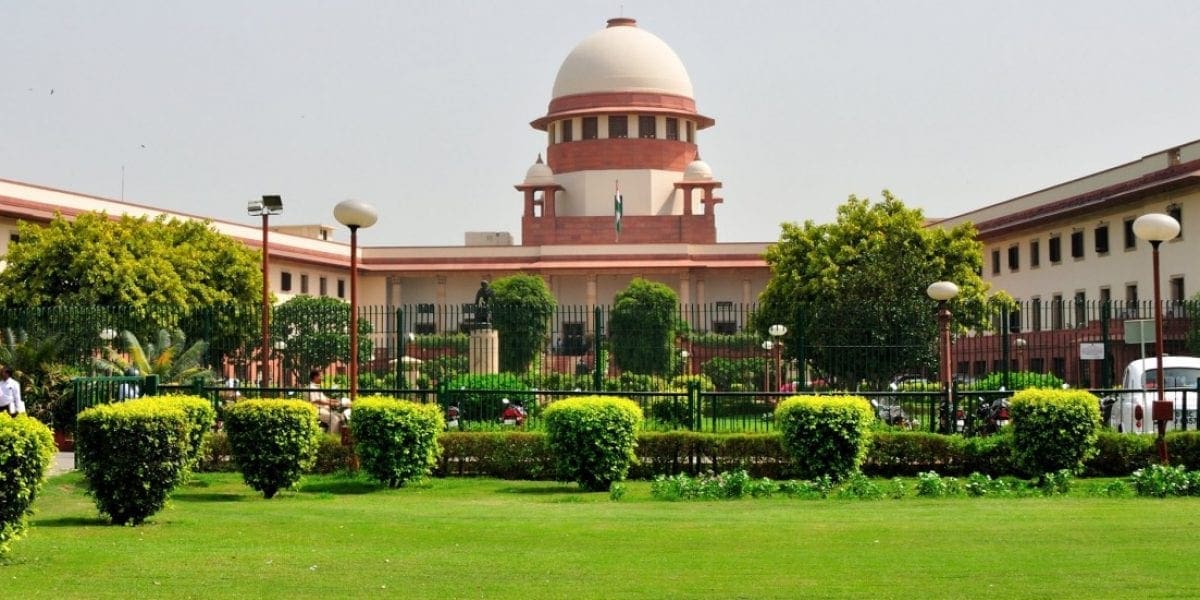 The prosecutrix in Chandraprakash Kewal Chand Jain (1990) was raped inside a hotel room by a police officer. While acquitting the accused, the high court noted that she had not sought assistance from the hotel management following the crime. The Supreme Court disagreed, stating that she must have realized the futility of complaining to them and that her behavior could not be described as unnatural.
The Supreme Court in Aparna Bhat (2021) prohibited judges from making gender-stereotypical comments such as 'good women are sexually chaste,' women who drink and smoke 'ask' for sexual advances, or assuming that a sexually active woman consented to rape while hearing sexual offense cases. This order was issued while overturning the Madhya Pradesh high court's so-called "rakhi" order.
The Supreme Court stated in Bharwada Bhoginbhai Hirjibhai (1983), "Why should the evidence of the girl or woman who complains of rape or sexual molestation be viewed with the aid of spectacles fitted with lenses tinged with doubt, disbelief, or suspicion?"
To do so would be to validate the charge of male chauvinism in a male-dominated society…Without fear of oversimplification or exaggeration, it can be stated that in India, a girl or a woman will rarely make false allegations of sexual assault…
The statement is generally true in both urban and rural societies. It is also generally true in the context of sophisticated, not-so-sophisticated, and unsophisticated societies."
The Supreme Court stated in Chandraprakash Kewal Chand Jain (1990) that the position held by a person in authority was bound to influence the victim's behavior. It should be noted that a person in authority does not always have to be a government official; a private employer who has the power to hire or fire the victim at will is also considered a person in authority.
"Bad order"
The Tarun Tejpal decision has been dubbed a travesty by the public. Aside from the question of whether the court reached the correct decision, the court's procedure has been criticized. Naturally, there has been discussion about what can be done to prevent similar incidents from occurring in the future.
It is destined to be remembered as a "bad" order. In the past, bad orders have had serious consequences for the criminal process in India, particularly in the realm of sexual assault laws. According to Professor Baxi's 2013 article, the majority of notable changes to the legal system were the result of specific instances of injustice being done to women.
In this way, Tarun Tejpal provides an opportunity to reach an agreement on the issues plaguing the investigation and prosecution of sexual assault cases in India. That is the only bright spot in this dark cloud.