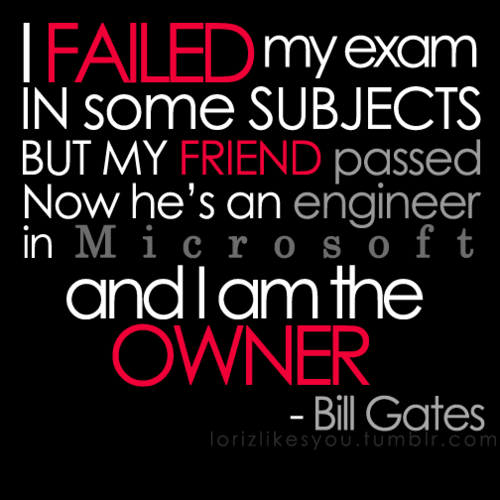 Every successful person has failed before and any would be successful person will fail sometime on their way to succeeding.
Failing is not the same as failure. Failing is when you try to achieve success and you do not, yet you are willing to try again no matter how many times you have failed. Failure is when you allow failing to stop you from trying again.
Failing is good and even God expects you to fail at some time because we are limited and do not have all ability.
You learn more from failure than from success.
Failing produces learning. Failing teaches you how to succeed.
The most important reason people fail is the "fear of failure". As long as you are afraid to fail the fear of failure will always keep you from succeeding.
Failing produces experience and experience prepares you for success.
You are not a failure until your last failing keeps you from trying and you give up.
Successful people and winners are people who failed but did not allow their failure stop them from reaching out for success.
Real failure is what I prefer to call eternal failure. Eternal failure is when an individual dies without having a relationship with God and living God's purpose for them while they were alive.