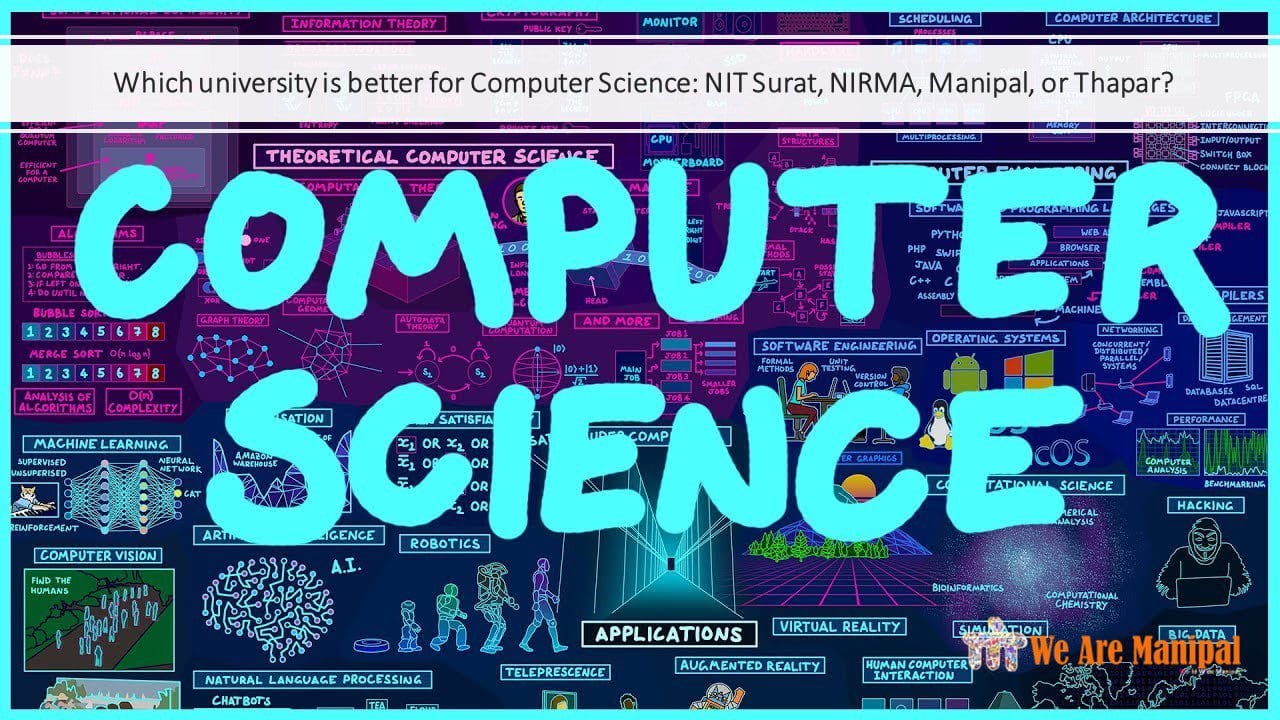 It is of umpteenth importance to choose the right college for exposure, growth, and development of any pupil after their pre-university education. Pioneered by the Technical Revolution, this era is in an exponentially increasing need for IT engineers. With this in mind, more and more pupils are resorting to Computer Science during their Bachelor's and Master's degrees. As a matter of factly situation, your choice would rank among the top universities between NIT Surat, NIRMA, Manipal and Thapar universities.
But which of these is a comparatively safer choice, where you will get both academic and extracurricular exposure?
Here are the details for each of these universities for a more simplified comparison:
NIT Surat
Fees: INR 82,500 per semester
Sardar Vallabhai Patel National Institute of Technology or NIT Surat has a vast campus with research facilities, special conferences for students of various streams, and a mission to grow students that curb various political, environmental, social, cultural and technological problems. When it comes to Computer Science, they provide a 4 year long B. Tech. course in the same.
Their staff is well equipped in various technical fields like encryption systems, protocol verification, cryptography, algorithms, image processing, wireless network sensor tracking and many more. The subjects vary along the same lines.
When it comes to placements, NIT Surat has a 94 percent placement ratio, as in 9 percent of the total students get placed in well-known firms and organizations with packaged going up to INR 39 lakh per annum.
NIRMA
Fees: INR 2, 00,000 per year
NIRMA is the most recognized university in all of Gujarat after DAIICT, SVNIT, and IITG. They are renowned for their educational facilities, research centers, and placement opportunities. After B. Tech. in Computer Science, your placement opportunities vary in the spectrum of companies like Goldman Sachs, Morgan Stanley, and Amazon.
Quite naturally, your placement depends on your average grade after the sixth semester. If you have a CGPA of 8 and above, you can get packages starting at anywhere between INR 15, 00,000 per annum to INR 20, 00,000 per annum. If you have a CGPA of 6.5, then your packages drop to INR 3, 00,000 per annum. It is difficult to get placed with an average lower than 6.5.
Manipal Institute of Technology
Fees: INR 3, 82,000 per annum
Manipal Institute of Technology has a ravishing campus with excellent cultural exposure. Its highlight is the B. Tech and M. Tech courses it provides. It also has B. Tech. Honors for meritorious students. Computer Science here, like at other places, as the duration of four years with the minimum, required credits being 170. The first two semesters are common for all, with electives starting from third semester on. They also have a student exchange program in their curriculum.
Thapar Institute of Engineering and Technology
Fees: INR 1, 67,000 per semester
TIET has a dedicated teaching staff with Ph.Ds. When it comes to computer science, they have two major fests that serve leadership purposes and make learning fun – ELC Activity and Hackathon. Along with that, they have various research and placement opportunities ingrained into their curriculum. At the end of the sixth semester, students are supposed to engage in their individual projects and submit them by the end of the eighth semester.