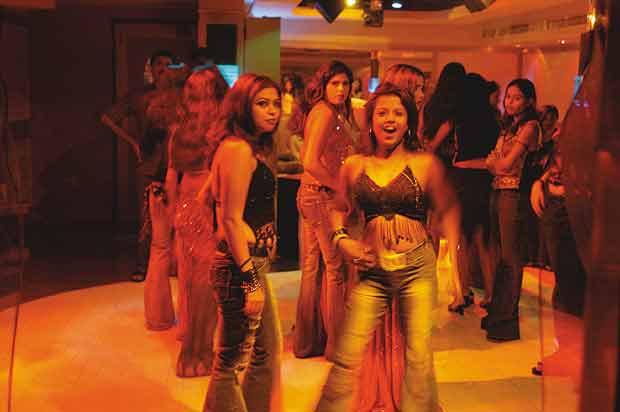 Writers do not run Governments. So they do not have to pretend. Also they do not have to carry any excessive ostentatious  baggage of morality. That is the birthright of the politicians.
A writer has to sell. For that he has to do a lot of research. He may go to the strangest places for that.  I was tempted to start this story with a holier than thou attitude. I wanted to convince myself  that I visited the bars to do research. But somehow hypocrisy doesn't sit on my slender shoulders well.
So that wasn't the reason I had visited the dance bars. I was young, in my early twenties, with raging hormones and curiosity in equal measure and both not allowing me to keep quiet. Mumbai was still Bombay then. We were small town guys. It was like the ultimate sin city and we were eager to explore.
A friend often jokes that one day my curiosity would be the reason for my murder. I did flirt with danger but not often. Besides, We were too young to realise the difference between the good and the bad and sadly the bad attracts more. I may not even venture half the places today. I visited the notorious Chor bazaar, Dhaaravi, the largest slum and home of many criminals, Haji Ali, famous for more than the heavenly seetaphal juice and a lot many more. Each day brought us a new excitement. Bombay had a lot to offer in every way. We gorged on the juicy sizzlers at  Kobe's and ate sumptuous dinners in the Copper Chimney. But soon we got bored. Our dil wanted more. It was then that a friend whispered about the dance bars.
The first dance bar that I saw was the Dilkhush bar in VT. The only reason for going there was the proximity. We were staying the Grand Hotel in VT. The experience is still vivid in my memory. The area would see a traffic jam in the evenings. Hundred of cabs dropping painted girls of every size and shape. Some pretty, some not so. A few even came in Mercedes ( Yes! There were big names in the business. They made lakhs!)
A tiny window through which you paid the money and a barely visible man handed the ticket, You cross two heavy and scary bouncers adorning the door and then you entered after verification. But once you entered, you stood transfixed. I had seen nothing like it before. Bright neon blinded your eyes and the blaring music deafened your senses. There were more than a hundred girls. Some of them were very really pretty.
Failed actresses, flop models and even some ordinary girls, they all were there. One floor, one mezzanine and then another floor. There were girls everywhere gyrating to the latest Bollywood hits. But when I reminisce, there was nothing sexual. The girls were bored and danced mechanically looking at the floor.There can be nothing sexual about that.
Honestly none of that was more vulgar than what streams from our televisions today.
A girl came up with our order of drinks and started chatting casually. She enquired from which city we came. When I mentioned Gwalior, within no time a girl from Shivpuri arrived. I was impressed. We ordered a drink for her and we talked and she narrated how she was now able to respectfully take care of her family and parents. I asked her if she was into flesh trading. She said it wasn't forced upon them. They were free to do that. The reply was ambiguous but I left it to that. She continued, Whatever money they made, they paid 30% to the owner. I looked around.
There were many leering customers. A lot of currency was flowing. We watched with fascination as drunk customers were throwing wads on the girls. But there was no indecency. If someone acted fresh, the boxers miraculously arrived and the person simply vanished.
After our first visit we grew bolder. Happy nights, Walk in, Carnival, Topaz everyday a new place. We wanted to see them all. They gave us our bragging rights. we could go back and show off. Yet we explored not even a tenth of them. The thought had struck us then as well that these bars were feeding so many. It was rumored that there were more than one Lakh bar girls making a living. During those days, I remember, Mumbai was popular for their dance bars.
But then as it happens often in India, politics took over. Rivalry among the politicians and not any great morality or ethics was the reason behind the closing. It would be silly to think that the dance bars were the main cause of prostitution. True, lots of deals 'happened' inside. But the two parties then moved out wherever they wanted. But that can happen in any sleazy massage parlour or through any not so innocuous advertisements in local papers. Blaming only dance bars is motivated. Ironically, many dancers now confess that due to the closure they had to resort to flesh trading as they had no other skills. Nothing can be sadder than that.
The Government has lost over 3000 crores in revenues. Mumbai lost it's popular watering holes. Someone's massive ego has made many lose their livelihood. The SC has done the right thing. Now only if the Government shows some grace. But they seem to be adamant and are instead criticizing the supporters. The debate can go on.
If we are to be accepted as a mature democracy, we must allow people to decide their own morals and ethics. Also the Government must protect everyone's livelihood.
Each and every person has a right to earn a living and live respectfully. The bar girls are no exceptions.