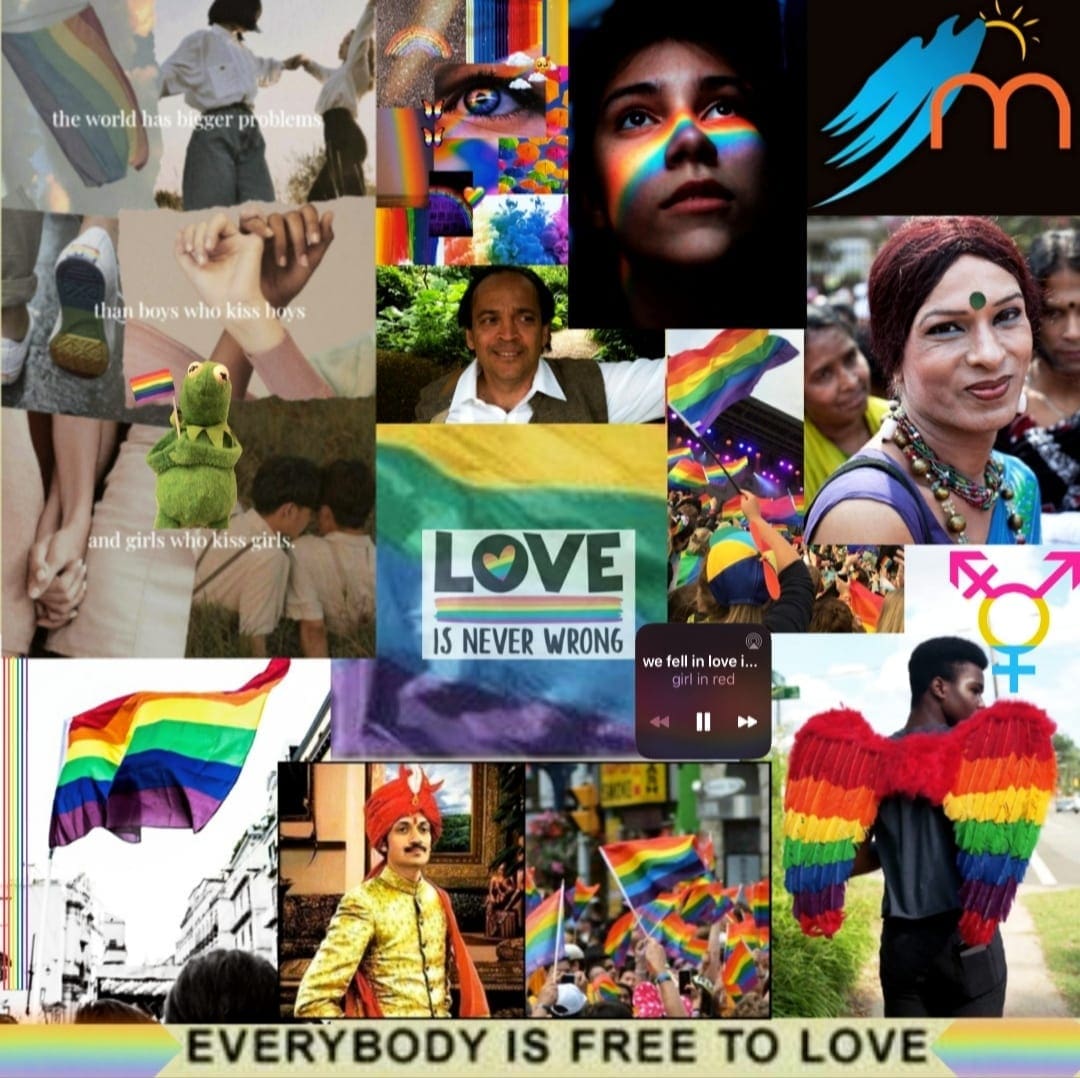 You and I are made of different hues, shapes, and sizes, but the one thing that unites us and allows us to qualify as 'humans' is the spark of humanity glaring in our eyes. The topic of LGBTQ+ and their rights is gradually gaining momentum in our society.
We continue to stand determined to break all the stereotypes and discrimination that engulf the people's fundamental rights belonging to this vibrant community. We are still far from our dream of making this world a better place for everyone; however, "every single drop makes an ocean."
The LGBTQ+ community people have been putting up a brave fight against cruel societal norms for decades now. Still, as they say, "Where there is a will, there is a way," it gives me immense ecstasy to find people, irrespective of their sexual orientations, leading an independent and respectable life.
Transgender people, gays, lesbians, bisexuals, etc. — who, earlier, were considered to be "abnormal" and were forbidden to lead the same life as the "normal people" are now seen in different fields as entrepreneurs, activists, artists, doctors, etc. And this is the true definition of "my country is progressing."
The majority of educated people are acquainted with the much-spoken subject of LGBTQ+, especially the youth, who often pose themselves as activists and are doing a commendable job in uplifting the suppressed community. The scrapping of the conservative Section 377 on 6th September 2018 brought a new ray of hope that was long dead. Through the awareness, how many of us are familiar with the various LGBTQ+ personalities who have succeeded in earning a name for themselves? Hardly any.
Undaunted warriors like Vikram Seth, Gauri Sawant, Sonal Giani, Laxmi Narayan Tripathi, and Manvendra Singh Goyal are among many living legends who have been very open about their gender and continue to educate others about the same.
From working in startups and companies to becoming entrepreneurs, various steps to encourage the participation of LGBTQ+ members are taking place as a part of reform. As per the reports of 2019,  Fortune Global 500 companies like Accenture are providing a virtual platform to their LGBTQ employees to share their stories with other people who share the same community and the non-LGBTQ+ people who support the cause.
Similarly, IBM's employees were encouraged to post videos on YouTube, and many "came out" at work, proving the safe environment provided to them at their workplace. Sodexo India, too, started a campaign against homophobia and decided to hire at least four transgender people as their employees, thus, indicating progress.
With changing times and growing awareness worldwide, various Indian companies are tweaking their anti-discrimination rules by becoming more inclusive towards the LGBTQ+ community, thereby doing their bit to curb the inequalities that persist against the like.
Recently, on 3rd November 2020, the Sector 50 Noida Metro station made it to the headlines and caught everyone's attention by becoming the first-ever 'Pride Station' of India, which is to be operated and run by the transgender community. This, indeed, transpired as a 'moment of pride' for our nation.
However, we have not constricted ourselves to multi-millionaire companies or steps taken by the government concerning the change in perspective towards people and their diverse sexual orientations. Still, we have also been coming across occasions wherein LGBTQ members are emerging as entrepreneurs and starting different businesses. A few names who have been a constant inspiration for their fellow community folks are: Hotelier Keshav Suri, the Executive Director of the Lalit Suri Hospitality Group, owns the Lalit chain of hotels and openly recognizes himself as gay.
One of India's most prolific fashion designers, Rohit Bal, has never been shy about his sexual identity and continues making a big name in fashion. Aishwarya Rutuparna Pradhan and Dutee Chand are the first-ever openly transgender civil servant and lesbian professional sprinters. With more-and-more transgender people, gays, lesbians, bisexuals, etc., bringing laurels to their community and our society is pushing forward others to be out and proud of their sexual orientation. Thus, leading to a positive change.
As much as everyone is disgruntled about regularly consuming negative news, the wrongdoings certainly cannot go unnoticed. It is commendable how India, which usually comes off as a very "conservative" and "traditional" state, is eventually modifying its prospect and becoming more accepting of homosexual norms. On the contrary, the complete normalization of homosexuality in our country remains a dream. One cannot possibly turn a blind eye to the discrimination, abuse, and harassment that LGBTQ people go through to survive and lead a somewhat everyday life.
Not long ago, Sanjana Sajhi, a trans woman in Kerala, who was helping people by selling Biryani food packets, attempted suicide as she was despondent with cyberbullying and false accusations against her. Many teenagers and even adults are forced into the illegal practice of 'conversion therapy' by orthodox parents to "cure the abnormality" of their child just because he/she/they are not heterosexual.
The unfortunate incident of a 21-year-old student, Anjana Harish — who committed suicide because she was subjected to inhumane mental and physical abuse in conversion therapy- brought a wave on social media. People stood united for the much-needed ban on the illegal practice of conversion therapy.
Many Sanjana Sajhis and Anjana Harishs struggle for their fundamental rights just to fit into our heteronormative society and carry out a respectable life without any fear of discrimination and torture — neither physical nor mental. "Be the change you want to see," together, we can be the change and bring about the change so nobody becomes a victim of to lack of humanity.
To end this article on a positive note, as a student studying at Manipal, it fills my heart with immense pride to see Dr. Trinetra Haldar Gummaraju. A trans woman studying at Kasturba Medical College (KMC), Manipal, choosing an LGBTQ flag, recently waved the rainbow flag of her triumph as she accomplished her dreams by becoming a doctor intern.
More power to her for breaking the stereotypical absurd norms with colors and becoming a true inspiration to many who want to live their dream irrespective of any barriers or discouragements due to their diverse sexual identity, just like her. If resolved, there is nothing good that one cannot achieve.