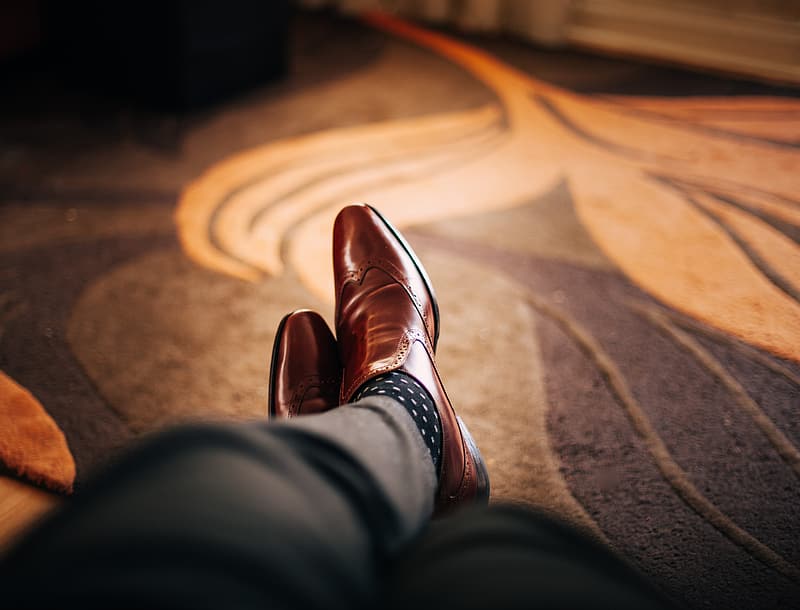 Dressing yourself is simple if you stick to certain rules, especially when you want your accessories to complement the look you've chosen for the day. You should always appear presentable when leaving your home for a social visit or for professional purposes.
You may think that shoes for men are only meant for formal occasions but that is not the case. You go to work with leather shoes and change your attire in the afternoon to exercise and wear your sports shoes. Well, formal and casual shoes for men have different types and a vast variety. You may be surprised that you can also wear dress shoes! Indeed, what you wear to go to work are dress shoes!
Be it mens shoes or other accessories, when going out of the house, you need to stick to the dressing rules. Whether you're buying men's shoes for yourself or for someone else, here are our top 8 tips and recommendations for making the right choice.
Rule #1 – Make sure your socks are always a shade or two darker than your trousers or pants.
The shoes for men should at least match the shade of your pants. Your pants, socks and shoes should mesh well with each other and socks should bridge the gap between pants and shoes. It is not important that the socks have to match your pants/shoes, but they should gel well with your attire.
Rule #2 – Your shoes should stand out in your entire attire.
This does not mean that you choose a whacky combination. What this rule means is that the shoes for men should be conservative if your pants are nice, unless of course, you are Ranveer Singh and feel the need to wear eccentric combinations.
Rule # 3 – Do not wear socks if you're wearing sandals.
If you're going for a semi-formal look, sandals can give the comfort you yearn for. But please remember, sandals and socks do not gel.
Rule # 4 – Change is good.
Try something new every summer, change the design or the type of shoes to show that you are a free spirit. Also, this will help you look fresh and act as a reminder to discard old worn down shoes.
Rule # 5 – Shoes for men should be clean.
Unless you spend your day working in the dirt, all dress shoes for men should be kept clean and shining. This is especially true if you are the go-getter type.
Rule # 6 – No flip flops at work
Never make the mistake of going to the office as though you've come for a stroll in the park. Never wear flip-flops to work unless you work at a surf shop.
Rule #7 – Be comfortable. Choose comfortable.
Choose a pair of shoes that keep you comfortable throughout the day. They should fit your feet comfortably rather than look fashionable. If they are fashionable and comfortable, then that's even better. Fit always comes before style; comfort is the most important element when it comes to shoes. No one wants blisters on their feet at the end of the day.
Rule #8 – Shoes for your Jeans
Wearing a pair of jeans does not mean you have to only wear sneakers. Sneakers are an ideal choice for jeans, but that does not mean you limit yourself to that. Despite being casual, denim is also very versatile. The same pair of jeans can take on an entirely different look, depending on which shoes are paired with them.
Try to work on your look with loafers, sandals, boots and the various other types of shoes for men till you get the look you're going for.