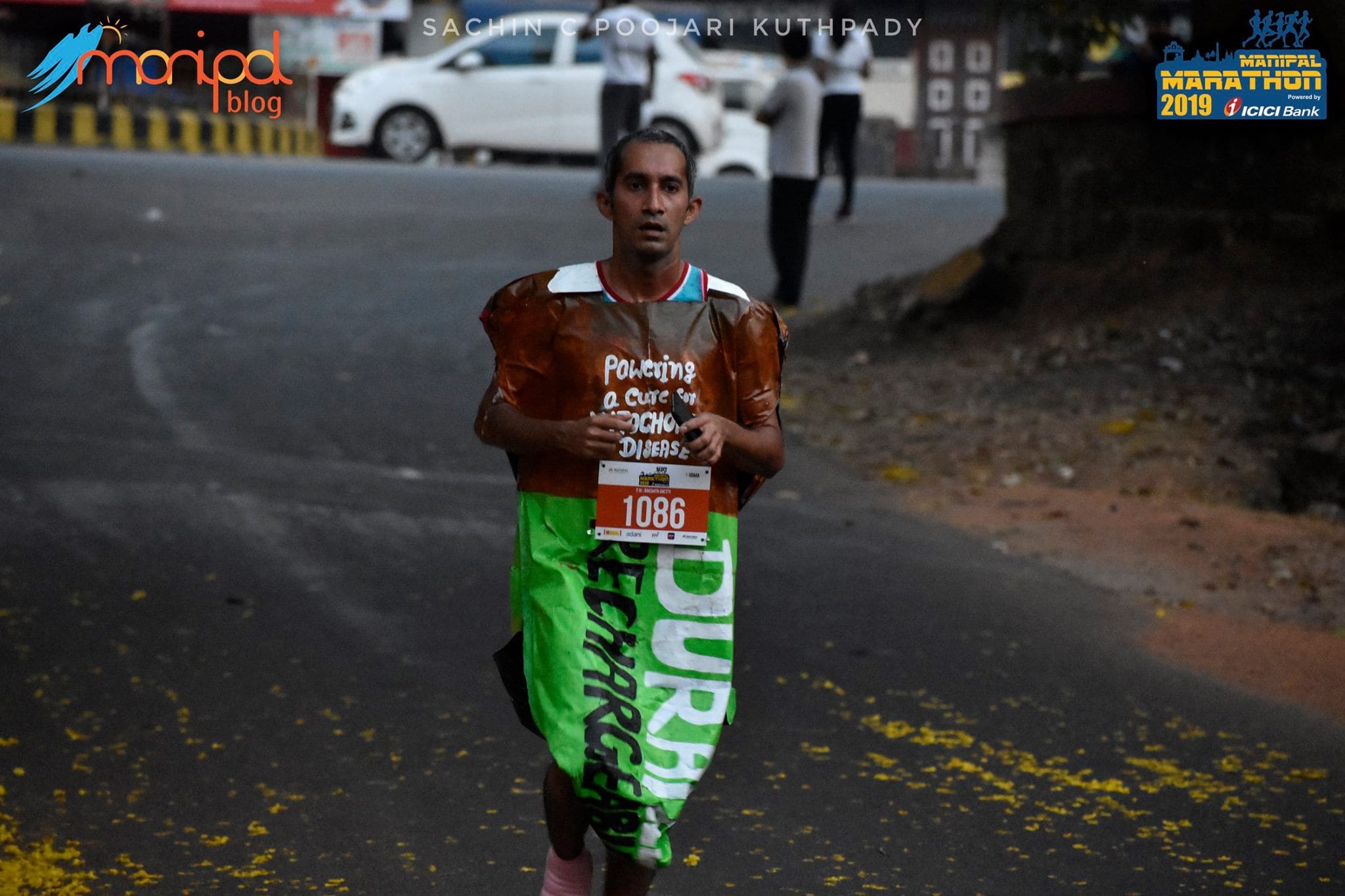 Rakshith Shetty, 34, is an avid marathoner and a Guinness World Record Holder. His commitment to fitness is an inspiration to many runners. Having participated in costume for all 3 editions of the Manipal Marathon so far, he has developed a close connection and bond to running here. Dressed as a battery pack and standing at a corner very unassumingly, Rakshith is the epitome of humility for someone who has no less than 18 World Records. We had the opportunity to talk to him pre and post run, and here is a look back at it!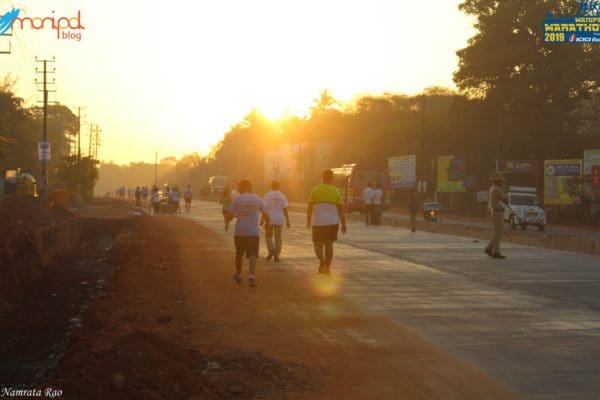 Tell us a little about your childhood. Were you always a sports enthusiast and what kind of support did you receive while growing up?
I grew up near the town of Moodabidri and yes, I was always interested in sports. But apart from small scale events at my school and college, there was no real platform to compete in this field. It was only after my graduation that I started running in marathons.
Rakshith Shetty ran the 21.1 km route dressed as a Battery Pack!With 18 World Records under his belt, this Marathoner has done it all!Heres what he had to say before the race!

Posted by Manipal Marathon on Sunday, February 17, 2019
Which was your first marathon? What motivates you to continue running?
After my graduation in 2005, I lived in Mumbai for a while. At that time, the hype for marathons was only building with the introduction of the Mumbai Marathon. Because I was always interested in running, the idea of participating in a marathon sounded appealing to me. So I participated in the Mumbai Marathon in 2008, which was my first and first full marathon. Usually, it is advisable to build up the stamina for full marathons by growing gradually through small distance ones but I did not want to miss the opportunity, so I went for it. My friends have been my greatest supports throughout and right now my main aim is to help kids, who don't have the resources to pursue their interest in sports. I want to reach out to people through schools and colleges, who like me had little support in their childhood.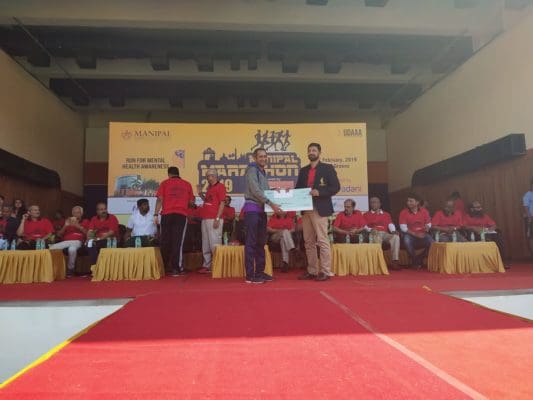 What is your training schedule? What diet do you follow to stay fit?
I train regularly and avoid all unhealthy food. Especially a week before the run, I schedule my food and water intake and make sure my body has enough vitamins and calcium. But again, diet requirements vary from person to person. Overall, maintaining a healthy lifestyle is crucial. Smoking and drinking are complete no-nos when you are a runner. They give way to a lot of health issues and must be avoided at all costs.
In the last five years, you have set eighteen Guinness World Records. How did you decide to try for one? How did you choose your category? How has setting these records benefitted you?
In 2010, my friends and I participated in a barefoot half marathon which set a world record and that is where I was introduced to the idea. Then I started searching about individual record categories on the internet when I came across the Costume Marathon section. There were a lot of apprehensions regarding this category but I wanted at least one record to my name. I went back to my hometown in 2012, trained myself and in 2014, I set my first record in Bangalore in a 10k marathon. The rest followed and as of today, I have eighteen records, all in different costumes. But apart from the recognition, I have not reaped all the benefits I had expected. The Centre and State are reluctant to provide any sponsorship or support for my future endeavours but I will keep trying my best to help the underprivileged children to follow their sports dreams.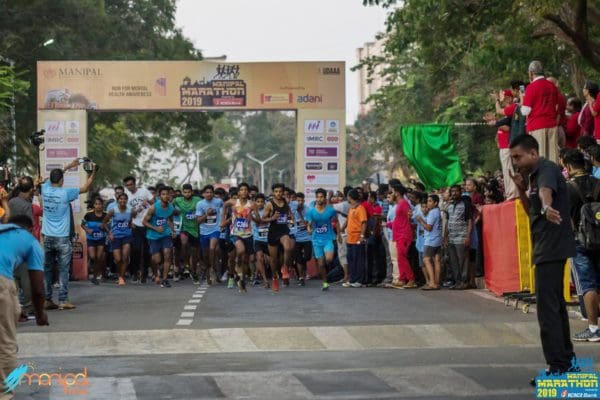 What is the significance of running in a costume?
Usually, runners are seen wearing short and comfortable clothes but the idea behind a costume is to normalize running in any attire, be it a sari or any bulky clothing. The outfit must not dampen the spirit of running.
How was your experience with Manipal Marathon 2019? How has Manipal Marathon evolved over the years? What differences do you find between Manipal Marathon and the rest?
Manipal Marathon was organized very well this year. The participants were accurately instructed about the route and there was absolutely no problem for the runners. I finished 5th in the half marathon with the timing of 1hr 32mins. Manipal Marathon has always been a good experience because of excellent coordination and management. And the organizers do an amazing job with raising awareness through the run which adds to its value.
I would also like to wish the organizers and the management the very best, and give them my hearty congratulations for having pulled such an event off so meticulously! It is also due to their support and hospitality in wanting me to be part of the event again, that I have come here to run once again!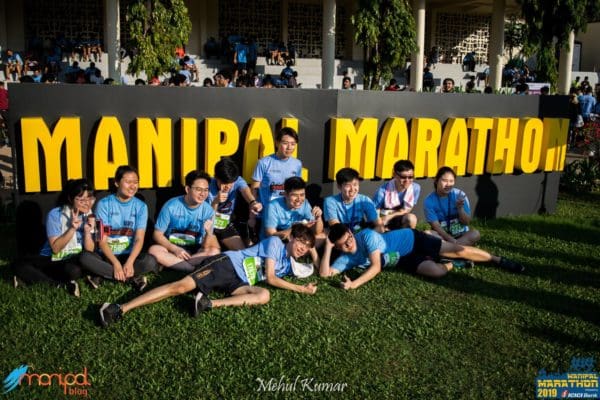 Lastly, what message would you like to give to the youth and all the potential runners out there?
I would like to advise everyone to adopt an active lifestyle, to start walking, jogging and running as part of their everyday life. Not only does it improve physical health but also increases focus among students. So my only advice is to ditch the sedentary lifestyle and consciously work towards a healthier body and mind.