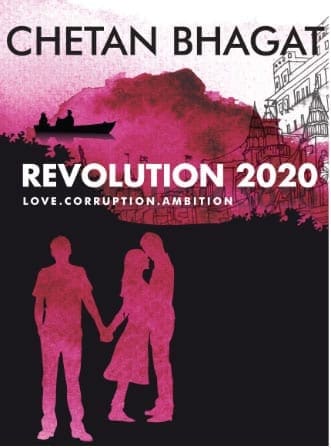 I know this has been out for a few months now, but I just got myself a copy. All right, to be honest, I wasn't sure if I wanted to buy it after all the bad reviews / publicity that it got which is why the delay.  Then when I saw it was available on Flipkart for next to nothing I thought, oh what the hell. As soon as I saw the cover with two guys and a girl, the girl holding one guy's hand while embracing the other, some idea of what the book might be about (Three way love story / Friend / Boy Friend / Issues ) came to mind. I was right as I read up further.  
Synopsis is best taken from Mr. Bhagat himself 
Once upon a time, in small-town India, there lived two intelligent boys.
One wanted to use his intelligence to make money.
One wanted to use his intelligence to create a revolution.
The problem was, they both loved the same girl.

Welcome to Revolution 2020. A story about childhood friends Gopal, Raghav and Aarti who struggle to find success and love in Varanasi. However, it isn't easy to achieve this in an unfair society that rewards the corrupt. As Gopal gives in to the system, and Raghav fights it, who will win?
What did I like about the novel? Honestly a lot of things.  I can't understand why such harsh criticism on the book.  It's written in the easy to read, never stopping, typical Chetan Bhagat style.  He's brought a book out on something that happens everyday especially in India.  If anything he just penned it down.  The story is about three friends and how life changes them and moulds them slowly but surely.  It's  a nice simple read. The way he portrays things work with the bribes is apparent and known to everyone.  Anyone who disagrees is just trying to cover up or using tunnel vision.  With respect to how he has portrayed the Indian system of education, again he just penned down what's there everywhere.  Everyone knows but doesn't talk about.  With 1.3 Billion People I guess that is how to segregate the cream of the crop.  The depiction of Gopal in the book is far more realistic then the depiction of Raghav who actually reminds me of a reporter in the Indian media whose name escapes me.  There are far more Gopals in this system then Raghavs.  The portral of Aarti is pretty accurate to how some girls actually are.  Be on the honest side I personally know at least three.  The ending of book is truly the correct ending as it should be.  Not the pansy bed of roses that Bollywood tries to imply life really is. 
Though I will admit the book isn't perfect.  While the synopsis is extremely accurate the title is what let's the book down.  The title depicts that the book will be about some revolution taking place somewhere, and besides I'd say of Gopal there really isn't any.  It's a false title.  This book is about a love story first with corruption as the back drop and more importantly sacrifice.  The sacrifices our parents make for us, the lengths they go to to make sure we can get ahead and more importantly what we sacrifice on our way to get ahead.  Some people sacrifice the joys, some the innocence.  This is what this book is about.  Get a copy.