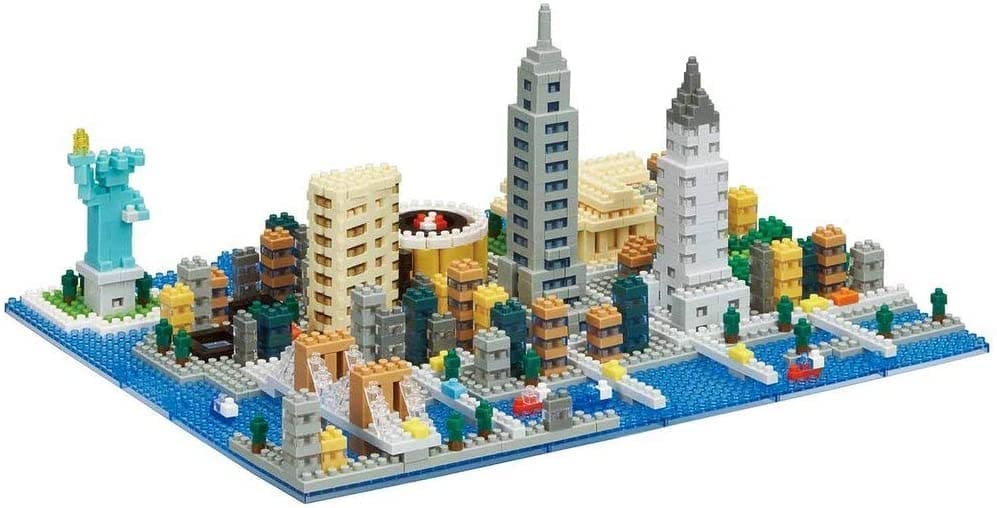 I'm sure all of you heard about the line of plastic construction toys named LEGO, which was founded in Denmark by Ole Kirk Christiansen just a few years after the Second World War, more exactly in 1949. The flagship product of this company consists of several colored interlocking bricks made entirely of plastic which can be assembled in an array of models.
I remember the great satisfaction I had when, in my youthful days, I could construct numerous castles and fortifications using this kind of Lego bricks, as I am sure, many people from all around the world can relate to these toys. LEGO became so popular that during the Christmas Holiday almost 28 sets are sold each second, a mind-blowing fact I could say.
New competition on market?
But from 2008, LEGO found a worthy opponent in line of construction toys domain, because this is the year when Kawada, a Japanese company based in Tokyo, released the so-called Nanoblocks toys. These toys consist of blocks measuring as small as 4mm x 4mm x 5mm. The mini-series nanoblock sets come in a high number of sizes and varieties. Do you love aeroplanes? No problem, with this Nanoblocks toys you can construct your own aeroplane, or castle, or whatever your mind thinks of.
As for now, Kawada has released four original sets: The Miniature, The Sights to See, The Advanced Hobby, and the fourth series is aimed at girls with themes including weddings and birthdays.
Besides that, Kawada also created sets based on various licenses of worldwide known shows, such as The Adventures of Tintin, Pokémon, Shaun the Sheep, and Street Fighter. It is worth mentioning that in 2015 Kawada collaborated with camera giant Nikon to recreate its Nikon F camera in a set.
The Mini Collection series contains a themed collection of projects, numbering from 80 to 150 pieces each, mostly replicas of common or exotic animals, pets, or insects, but you can also find sets about your favorite hobby. The Sights to See series recreates, as the name implies, the most famous landmarks and architectural icons from all around the world. The most notable buildings from this set are the Eiffel Tower (Paris), Opera house (Sydney), Chrysler Building (New York), and Parthenon (Athena).
Each of these sets ranges in size from 200 to 600 pieces. The Advanced Hobby series, which is the third one on our list, also features notable buildings and landmarks, but these are on a much larger scale, with over 2000 pieces. The stars from these sets must be the Statue of Liberty, the Space Shuttle, and The Neuschwanstein Castle deluxe edition, in which the last set is also the largest one, with a staggering number of 5,800 pieces. Nonetheless, with thousands of individual pieces, you can create other amazing results besides the ones mentioned above. Each of those sets retails around 20 dollars, a price that allows you to make an architect impression without breaking the bank.
Nanochu I choose you!
Yes, you heard it right! You can now have your own favorite pocket monster as a model. I know it sounds insane for Pokémon franchise lovers, myself included, but I must let you know that Kawada released in 2013 (Japan) a set of micro-sized building block models, recommended for ages 12 and up, in collaboration with Niantic. From October the first, 2015, the toys are distributed in the United States by the Ohio Art Company.
The first of the sixty Pokémon Nanoblock models released where the Kanto starters Pokémon, Charmander, Bulbasaur, and Squirtle which consists of 120 pieces each and alongside them, the most loved Pokémon, the one and only Pikachu, which has 10 more pieces than the others.
20th Anniversary Edition
On March 4, 2016, to commemorate twenty years of Pokémon, it was released a special grey monochrome edition of the first series of Nanoblocks. This grey color is reminiscent of the original games, each model comes with spare pieces which together can be collected and used to build a monotone model of legendary Pokémon Mew. These model instructions can be downloaded online by imputing four passcodes obtained from each of the four models.
One important thing to note is that besides normal Nanoblocks, you can also find Pokémon Nanoblocks Plus sets, in which the models use larger building blocks than the originals and mini-sized ones, in which each model consists of 25 to 75 pieces.
Conclusion
Although Nanoblock is originally from Japan, and from what I have read, they are quite popular in the Rising Sun country, you can still find them all over the world, several sets can be found on sites such as Amazon.com, Ohio Art Company or eBay.
As the company would say, Nanoblocks are ''Fun to build, fun to display and Fun to collect.'' On the other hand, as Ash would say ''Gotta catch 'em all''.