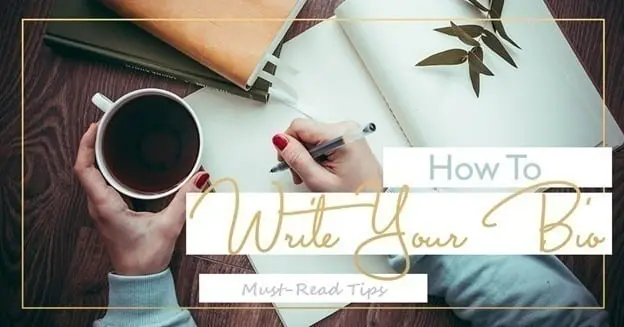 Writing your own bio is a great way to capture all the ups and downs of your life thus far. In the beginning, you may feel like there is not much you've achieved in your life to present in your bio, but there is. Do not be intimidated with writing your own bio because if you are planning to make a success of your life, you will be required to write one. Writing your student biography 150 times over is not necessary, if you have a plan. Here are some of the best tips on how to write a great bio.
Write down some important details
There are things in your life that you achieved. Before you start writing your bio, start by making a list of all the things you want to mention. It is very easy to leave important details out when you start writing. Write down your educational history, employment history, awards and achievements and the private details about your life you are comfortable sharing. Once you have the foundation done, you can pick and choose from your list the things you want to write the most about.
Look at examples
We can all learn from doing a little research. When you are searching for a student bio example 10 options should be enough. Be specific in your search to make sure it matches the goals you want to achieve with yours. For example, if you are in your 20s, try searching for short bio examples for students 20 years or older. This will give you more accurate results to apply to your own bio.
Let your personality shine through
The people who are going to read your bio are hoping to get to know you better. One of the best ways to achieve this is by allowing yourself to show your personality to the readers. Be your authentic self at all times. You cannot write as if your bio is produced by a robot. I know that for some individuals, it's perhaps a bit scary to share personal information, but you can connect with your readers by sharing successes as well as failures.
Write in the third person
Step outside of yourself when writing your bio. Even though this is your story, think about it as someone else telling your story. Writing in the third person sounds more credible. This will allow you to use your name a few times in your bio without it sounding unnatural. The search engines will then pick up your bio easier because of the amount of times you could insert your name. Of course, do not overuse your name in the bio, especially not if it does not fit in with what you want to communicate. Writing in the third person also makes it easier for your bio to be shared via social platforms. It can also then serve as a great introduction if you were to receive an award or give a speech.
Conclusion
Your bio is a very important part of anyone who has a plan and goals in life. One day when you are successful, your bio will be searched for. Remember to constantly update your bio with new information and achievements. This is not something you write and then forget about. Make sure to edit your bio ruthlessly and do not let any grammar or spelling mistakes go unnoticed. This is a professional piece of writing and you need to show the readers that you took the time to put this together. A poorly written bio might be perceived as tacky and unprofessional. There is no deadline to upload your bio so take your time with it. Make sure it reflects you in the best light possible.
About the Author: Linda Jellison works as a content manager. Her hobby is traveling, reading and guest post writing. She was a top student and now she shares her experience with other students.