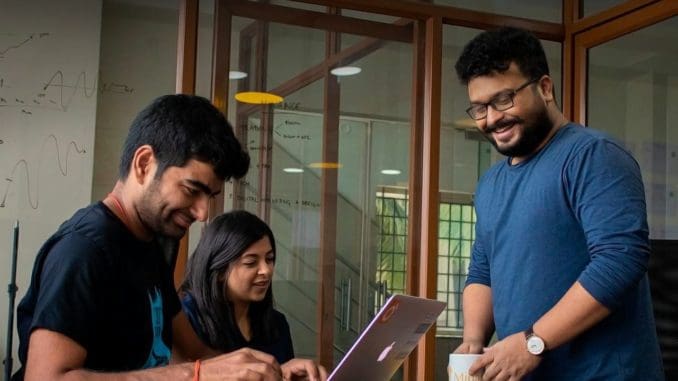 It is not every day that you see a 13 year-old boy finish a book like S.S Grewal's "Profitable Investment in Shares" in a day and by the end of it knows exactly what he wants to pursue in life.  This is exactly how the journey of Anurag Bhatia, CEO of the Indian wealth management start-up, 'Minance' started.
Anurag Bhatia, who was born in Kolkata started developing a keen interest towards finance, investment and share markets since he was 13. While pursuing BBM in Finance from Manipal University the idea of Minance was seeded in him. Anurag was also aware of how one should provide the "right product to the right market" which was not possible at that time but acted as an eye opener for him. After completing his Masters in Mathematical Finance from the London School of Economics he came back to India and started working for Amazon.
Anurag was part of a 16 people team which happened to be the first batch of employees in Amazon India. The company flourished and within a year they had about 8,000 people on board. In this hustle, Anurag never missed a chance to carry out what he did best and was known as the 'Investment guy' or the' Finance guy'. In Amazon he often helped his colleagues with their investment and shares. Soon he was helping around 200 to 300 people and charged them for it. This just seemed like the right time for Anurag to carry out the dream which was unfulfilled the last time. With a team of about 300-350 investors from Amazon itself he kick started Minance which has grown organically since then.
According to Anurag, Manipal played a huge role in his journey. Also, about 30% of the team he is working with today are ex-Manipalites.
The main objective of Minance is to conglomerate all financial services under one company, which include- Investment, Insurance, Taxation, Access to credit and Philanthropy. The company is now able to invest in Indian as well as global stock markets along with investments in art and artists. Currently, Minance is working towards Philanthropy and Insurance and over the next few years aims at achieving all of this under one umbrella.
The team is doing some appreciable projects to promote the aspect of philanthropy in their plan. Minance believes that philanthropy is "not just donating money or writing a cheque but preparing business models that the recipients can keep on replicating so that the ecosystem sustains itself" says Anurag.
A project was carried out in a slum in the Pinna Industrial region of Bangalore. The region has numerous apartment societies and the construction workers of these reside in the adjoining slums. Anurag and his team wanted to build a model with which the residents of the slum could sustain themselves. The children here were asked to go and collect old newspapers from the people of these societies. The kids were taught to make paper bags and within a day or two they divided the work of the process amongst them and started functioning like an assembly line were each one did one step. The team had made contracts with adjacent shops that were ready to buy paper bags from these kids for their light weighted products and pay them for it. Within a month they earned enough money to build washrooms, get electricity lines and to save energy the old lights were changed to long-lasting LED lights for the residents.
Minance Private Market is a brand new venture that has been introduced. This is done to bring the buyer and seller together but for the start-ups in the country. The idea behind this is to create a new rapid class in India.
Minance might function like a bank in some aspects but what differentiates it from them is its services. Bank employees are often persuasive of their clients towards specific products or facilities because they are subjected to commission however, it is not the same for Minance. Here, customers are charged on the percentage of their profits. Once a client makes profit the company charges a 10% claim on that profit which gives Minance a sense of partnership with their clients.
While sharing his experience Anurag stated," we often take luck for granted in our lives, be it good luck or bad luck." The incident of how Minance fought for their domain name in the International Court of Geneva against the Somalian Government has taught him to stop underestimating luck and how much it factors in one's life.
Anurag thinks Manipal is creating some great minds. "Keep trying till you get a chance. Do not give up and persevere until you find that one chance for yourself. Perseverance is very important" was his message for the Manipalites.