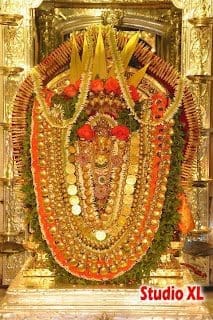 Pictures speak more than words. So here are the pictures.
Lord Shree Veera Venkatesha of Managalore.

Scene during which the deity will be carried from the temple in a golden planquin and placed on the car known as TERU (in konkani). A huge festival for the GSB community who make it a point to visit KODYAL (mangalore in konkani) TERU without missing it. This is the only place where this particular scene is scene before the lord ascends on the car.
Guys showing off, girls trying to impress them, is the most common scene during this festival. Match making is the key during this time! 🙂 Yes, you might be shocked to hear this. But its the fact. Any new weddings or engagements/marriages during the whole year will automatically be known as the couple show to the whole of GSB community he/she is engaged/married. Not to forget, WOMEN and their never ending gossips along with flaunting of the latest "GOLD" ornaments which her hubby presented to her. The priests busy with the temple chores. Lots of volunteers dressed in a traditional attire called "PATTE TODAP" ( which is basically like wearing a dhoti, but the style is different ) roaming around carstreet, (place surrounding the temple where the car will be pulled) some doing serious work and some as usual trying to find where his gal is sitting 😛
This all happens only at one place and that is Kodyal Teru which is must visit for anyone once in a lifetime. So next time you are around Mangalore during the month of January or February do make it a point you visit this festival not only to see the above mentioned things, but also to seek the blessings of Lord Shree Veera Venkatesha.
Photo Courtesy: Manju Neereshwallya, Studio XL, Mangalore
Cheers
Muki