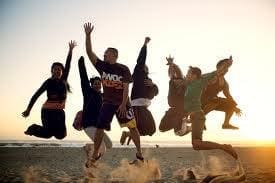 "My family once did something no middle family has ever done in an expensive restaurant.
WE ORDERED DESSERT!"
The quaint little town of Manipal, relatively new to the comedy scene has now seen outstanding stand-ups from artists like Daniel Fernandez, Kanan Gill, Biswa Kalyan Rath and Rahul Subramanian and is now playing host to Kenny Sebastian on the 30th of March at the Central Park Hotel, Manipal. ManipalBlog brings you a small insight into what you an expect in what has been dubbed Comedy ka Maha Sangram!
Kenny Sebastian: Laughing till your stomach hurts, having tears streaming down your face and aching ribs. These are most of the side effects associated with a large dose of comedy, and when the main man Kenny Sebastian comes to town, you can be sure to get a lethal dose.
Kenny Sebastian, the man who has changed the face of Indian comedy dabbled in many things before deciding to stick with it. He started off with theatre to get rid of his stage fright and and did live music for two straight years before falling down the rabbit hole of stand up comedy. However he still has a soft spot for music and occasionally brings his guitar onto the stage for some musical humour. His known wanderlust has led him to do a more than a 100 stand ups all over the world.
One of the most difficult parts on stand up is improvisation, on how to interact with an audience and maintain the flow of the show. Well, in his own inspiring words, using humour to deal with certain issues gives you more perspective as you start taking it a little more mildly. This has allowed him to make his shows a little more based on the audience as he takes them on a rollercoaster ride of jokes, innuendos and witticism which leaves them gasping for breath.
Warren Viegas: Who better the kick start the night then the founder of the Las Viegas Comedy Club, Warren Viegas. Living by the philosophy of taking the funny business seriously he has often performed alongside some of the leading comics across India and for the past half decade has hosted a podcast called The Word which features some of the finest comics of the world like Russell Peters, Dana Carvey and John Oliver.
Each community on this planet has its holy cows and one must always keep that in mind. The comedian should be aware of the weaknesses in the society and not challenge them. By mocking at the sentiments of the people a comedian can create a controversy. But it is the need of the comedy business to look for funny side of life and bring it forth, making people laugh, he feels.
LVC Comedy in association with Skylight Solutions and IGNIS Entertainment is brings you this hell of a laugh fest! So be sure not to miss it! Tickets available on Insider and Paytm! For Offline Tickets, contact 9844170695