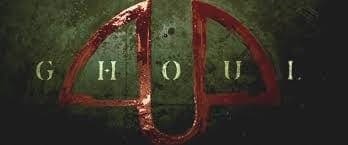 Venkatesh Prasad BS- staff blogger
As a "horror and thriller" fan, I was excited for this show that was released on 24th April, 2018. Growing up  watching horror shows and movies that depicted half-burned witches, vengeful ghosts, haunted bungalows or disfigured humans, Ghoul stands out of the typical horror genre. Being an Indian series, I expected a ghost with a disfigured face, clad in traditional clothes. I expected this to be a typical series revolving around a ghost with a vengeful purpose. On the contrary, Ghoul followed a unique theme as it focused more on symbology rather than murders or mishaps in the past. Before I proceed any further, let me tell you that there are no spoilers in this article and you can continue reading it until the end.
According to Islamic mythology, Ghoul is a demon or a monster that consumes human flesh. The director of the show used the same definition in a unique way. The show is set up in an unknown country where the government has a particular syllabus and anyone against it is considered anti-national and he/she is imprisoned in military detention centers. The show began with a 'near future' opening scene which grabbed my attention and confused me for a moment. It focuses on the prisoner's life and its contradiction to a soldier's duty. The protagonist, Nida Rahim works with a special investigating team which is responsible for resolving terrorist activities. She doesn't even spare her own father as she discovers his anti-national motives. Recognizing her bravery, on the orders of her colonel Sunil Dacunha, she gets posted in a  secret military interrogation center where the deadliest terrorists and criminals are interrogated. Here, the colonel is impressed by Nida's performance records and gives her the responsibility to interrogate a new prisoner – Ali Saeed who happens to be a dangerous terrorist charged for killing millions of innocent people, conducting a series of bomb blasts in the country and raising voices against the government. Saeed Ali is introduced in the scene. His spooky gaze, silent nature and deadly eyes are clear signs that he is evil. His intense gaze made me believe that he has a power in him. His silence throughout the interrogation frustrates the officers and the colonel. As the show resumes, I realize that Ali Saeed knows the personal details of the colonel, Nida and few other interrogators. There are many more deaths and the soldiers and prisoners experience nightmares due to Saeed Ali. A lot of questions were pondering in my mind until Nida learnt the truth about Ali Saeed.
The colonel, Sunil Dacunha appears to be a humble, genuine, depressed and introverted man. But that's what creates the thrill and magic in the show. Many questions were popping up in my mind during the entire series which got cleared during the last 15 minutes of the show. The other officers do not share much screen space. Sunil's actions made me think he is stupid and most of his comrades were against his thinking and actions as he was a drunkard. Nida Rahim shares the maximum screen space and there was a point where I got irritated by her presence on screen. I think  that other characters should be given more screen space because throughout the series, there is development of Nida Rahim's character while the other characters are ignored slightly. Ironically the show depicts patriotism at the start and ends with a message of hypernationalism and false patriotism. It is a satire on the methods employed by the terrorist investigation agencies. I observed that the show also depicts the politics and selfishness in the military terrorist investigation agencies. The show threw some light on the Hindu-Islam relation and had some quotes from Quran. In fact the "Ghoul"concept was picked up from ancient Arabic culture.
The show has 3 episodes of approximately 50 minutes each and is perfect for a binge watch. It is available on Netflix and stars prominent actors like Radhika Apte (Nida Rahim), Manav Kaul (Sunil Dacunha), Mahesh Balraj (Ali Saeed) and Ratnabali Bhattacharjee (Laxmi). Though the show was well planned with good plot and concept but it has it's own share of flaws. There was reduction in horror content but it still managed to give me goosebumps at some places due to the amazing background music. The show also gave me knowledge of how the prisoners are treated and how do these special prisons and secret investigation officers work. The show ended with a few questions unanswered and left me speechless. There may or may not be a possibility of Season 2 of this show because of the cliffhanger ending of the show.