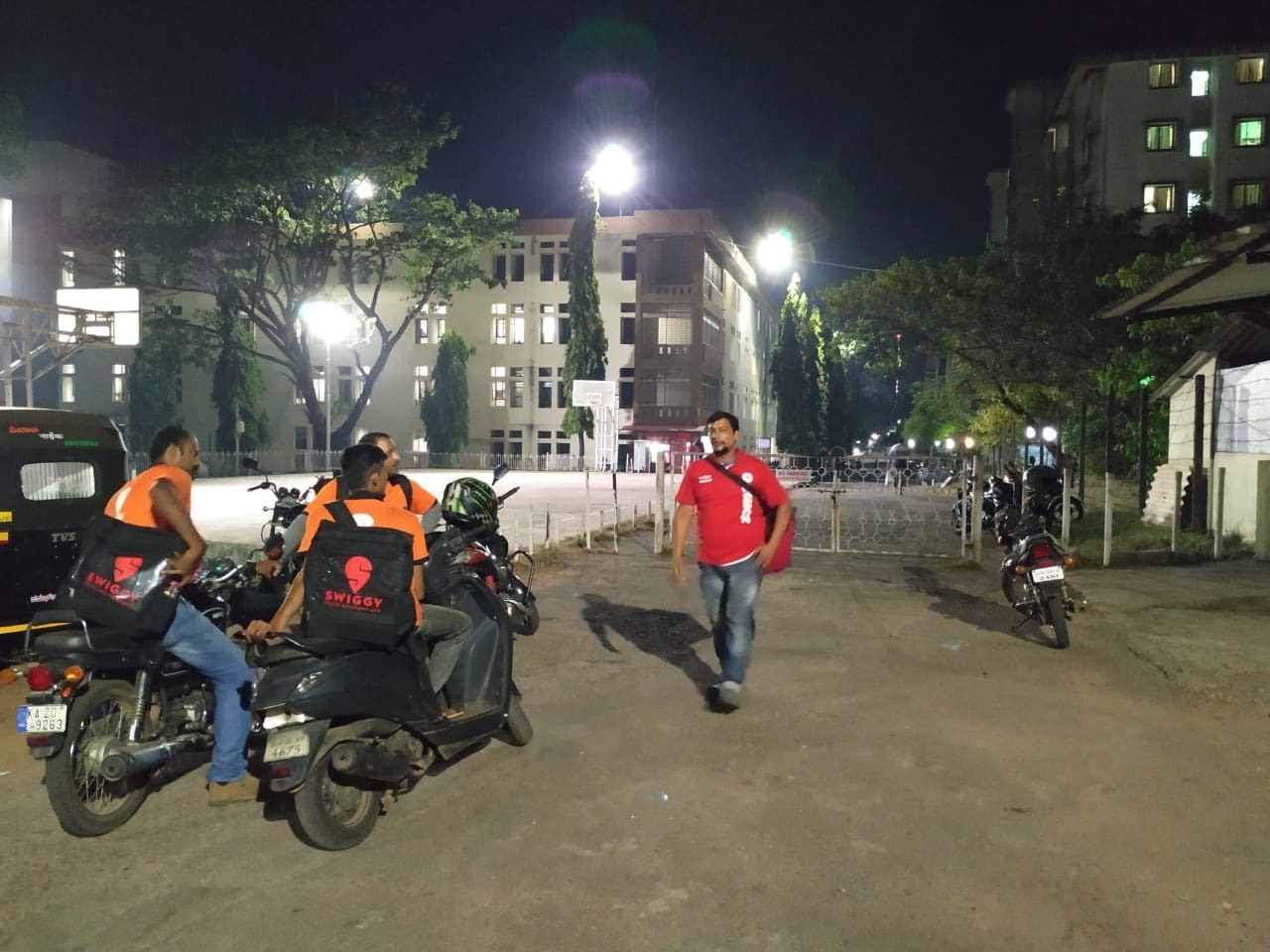 A bunch of friends arrive at your apartment late in the evening and the mood turns into a pizza-for-dinner one. Feeling happy that Swiggy and Zomato are in your happening town of Manipal you log into the app and place an order. Fifteen minutes later near Tiger Circle where a gap in the divider has made a pathway for two wheelers to cross, your delivery guy with pizza in his red bag makes a turn towards the Manipal.edu building. A vehicle rushing to the Trauma & Emergency hits the two-wheeler.
Food delivery & Manipal-Udupi
It is nearly 20 odd days since two leading food delivery companies Swiggy and Zomato have forayed into the previously unorganized market of delivering food in Manipal. The town has been painted orange and red. It is hard to miss the colors. It is also hard to miss the utter lawlessness that the employees of these two leading companies are indulging in. Wrong side driving, over speeding, sharp overtaking, entering no-go areas are just a few of them. No regular driver on Manipal-Udupi road would have missed the chaos in the last three weeks.
While it is new in Manipal, these companies and their counterparts are known for such behavior in other cities. In September this year Swiggy rolled out a Safety First program for its over 70,000 delivery partners, the largest in the country. On the other hand, a crackdown in Vadodara early this month resulted in traffic police booking nearly 100 food delivery boys.
What used to happen before Swiggy?
Food delivery and Manipal go hand in hand. It is not that this has started only after foray of Swiggy and Zomato. Eateries that home deliver have their own fleet of delivery boys. Small attempts at delivery apps have been made in the last 3 – 4 years but the scale has been low and largely they have been ineffective. Delivery boys have been rash, have not been following traffic rules but since the number was limited it did not create a significant problem. But with Swiggy & Zomato, who have a strategy of carpet bombing competition out, recruiting large number of delivery partners, the lawlessness is now on a scale enough to be visible.
How to solve the problem?
Firstly, it should be the onus of traffic police, Udupi district to curb the menace. There is no substitute to effective policing, booking errant drivers, issuing challans and to ensure rule of law.
However that said there is a capacity problem and there cannot be policing at all places and at all times.
And thus, secondly, it should be the collective responsibility of we people of Udupi and Manipal to ensure that there is no blood and lawlessness on our plates.
I had tweeted to Swiggy the moment I saw gross transgressions and they replied stating they are committed to rule of law. However those words were empty.
But if these protests are to scale up, the company would take notice. Similar things, if people remember happened with pizza delivery many years back. After massive objection and protests, the delivery time got adjusted pragmatically and the rashness came down significantly.
There is the app to give feedback, there is their Facebook page, their Twitter handle, Instagram account. Let Manipal tell them they are on the wrong side of law and creating chaos here.
Customer is the King
Manipal-Udupi is relatively a small, yet dense market which the two giants Swiggy and Zomato are trying to capture. If I am to make an educated guess, one of them will bow out sooner or later given the limitation of the market. In such a scenario we the customers should demand more propriety. Do you think if a vast majority decided to boycott certain food delivery, they would survive in this market?
Students, at the young age, have a strong sense of justice. That is one thing that remains unpolluted for a long time. They should demand from these companies adherence to law. We all have had friends injured, disabled and even killed in road accidents. Indian roads kill about 1,30,000 people each year. Those many families are affected.
We should not let Swiggy and Zomato and other food delivery guys to break laws with impunity. These are large companies. You all must have heard about the 'with great power comes great responsibility' courtesy Spiderman. It is important your food delivery app guys understand and exercise the same.
Parting thought
Of course the scenario in the opening paragraph is hypothetical. But you wouldn't want blood, injury, accidents, rage, scare, tension, risk on your pizza. Would you?