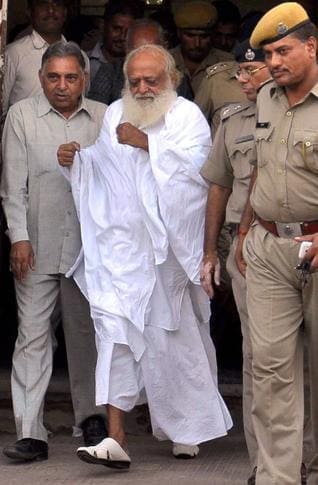 It seems Rape and sexual assaults have become a hobby in India. After several distressing cases of atrocities against women, the latest to hit the headlines is that of self-styled Godman Asaram Bapu. A 16 year old girl, who studies in Asaram's  Madhya Pradesh Chhindwara Ashram has accused Asaram of sexually assaulting her under the pretext of exorcism at his ashram in Jodhpur on 15th August, 2013. An FIR was filed regarding this on August 20th in a Delhi police station from where it was transferred to Jodhpur Police for further investigations. After serving a notice to Asaram to appear before police by 31st August, the Rajasthan Police sent a team to Indore, Madhya Pradesh from where the Godman was arrested and brought to Jodhpur amid high drama. The events around the whole arrest are no doubt suspicious. While Asaram asked more time from Jodhpur police to appear before it as he had lost a relative, his son Swami Narayan Sai claimed that he was ill and hence could not board a flight. He reportedly said that Asaram Bapu was recovering from his illness at his ashram in Bhopal. Later, Asaram mysteriously surfaced at his Indore Ashram from where he was arrested amid high drama by a special team of Jodhpur Police after being pronounced fit by doctors from Indore Medical College. Meanwhile, the victim has also accused Asaram Bapu of threatening to kill her whole family if she reported the issue. The arrest followed a fast unto death by the victim's father if Asaram Bapu was not arrested. While the whole media and political community are on their feet on the issue, any conclusion to the case is still a far sight. Police investigations are underway and I feel compelled to praise them at the swiftness of their action, considering the stature of the man in question and the influence he enjoys across the country neither saying nor ignoring factors like media pressure, political impetus, a fast unto death, procedural compulsions and the police force dedication. (I leave it to the readers to choose his assortment of toppings in this regard.)
It is uncommon to see a man who is respected as much as God by a huge number of people to be accused of so vile a crime; but then Asaramji's name has been surrounded by many controversies in the recent past like death of two boys of his ashram, accusations of attempted murder and encroachment of public land.
Whether Asaram is guilty or not can only be answered by the time to come, what dismays me more is the fact that atrocities against women seem to be on an upward trend all over the country. No doubt that the media's increased interest in such cases is a crucial factor behind this perception, but then we cannot ignore it with a casual attitude. In a country where Shame and Honour are regarded as pillars of the society, such unfortunate events are not just unwelcome but unacceptable too. Have we gone so blind in our lust that we can't even differentiate right from wrong? Has our society forgotten what it is to respect its women?  If it is so, then it is essential that all such people need to be sent a clear message that any such act against our mothers, sisters, daughters and wives will be dealt with the same brutality as that of the act itself. We are not afraid of amputating our diseased limbs if they threaten to consume our most cherished parts. India needs to make itself a safe place for women where they can move and live with their heads held high. Mother India has not yet lost the breed of chivalric sons. It is just that we believe more in redemption than reduction. But then as our Honourable President had just said, (though in a different context) "Even, our patience has limits." And hence should not be tested beyond a certain limit.
P.S.: Recent reports have shown that Asaram is "strong enough" to perform a "sexual assault" even at the age of 72 though he had claimed the opposite. Sometimes I do wonder, are all these Babas' really blessed? 😉