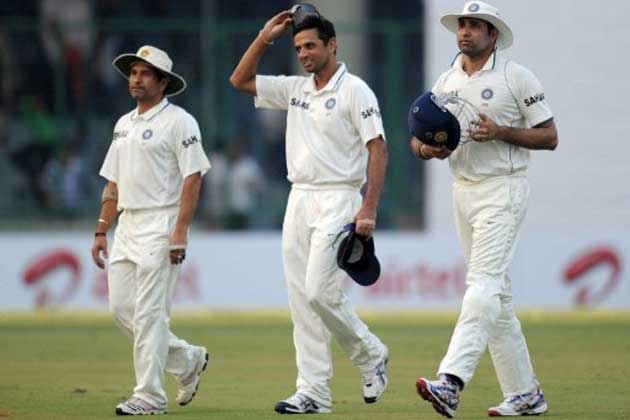 So here they stand. Not on a rugged hillock, or a conquered plain, but on a foreign land. A nation in which they are revered by the majority of its populace; whose respect they have earned through sheer skill, willpower and determination. Experienced campaigners, seasoned artistes, old workhorses etc etc….these are the terms that the cricket-crazy Indian media uses to describe them. However, in my mind, I shall always call them The Three Musketeers. They are on their last tour to Australia, the Kangaroo nation. They haven't exactly set the turf on fire on this tour. In fact, they have performed well below their own towering standards; and as a result, they've disappointed both themselves and millions of fans back home, many of whom spent their leisure school hours shadow practising a Dravid defensive stroke, or a trademark Laxman flick. Consequently, the present predicament has driven the glorious past out of volatile Indian minds; and in many cases, the three have become villains, hungry for personal glory and lackadaisical.
In the summer of 1992, a 19-year-old boy stood up to hostile pace bowling on the deadliest pitch in the world, even as his experienced teammates fell like a pack of cards around him. He scored a scorching century, adding to a precedent in the same series; thus earning himself a reputation of a master of all tracks in all conditions. A reputation which he firmly entrenched in the minds of all cricket lovers worldwide; in 3 subsequent tours later, Sachin Tendulkar has never left Australia without a hundred to his name. A record which he will have no intention of breaking on his twilight outing.
Rewind to Sydney 1999. A fragile looking youngster flayed the world's best attack in their backyard. The unyielding fast bowlers looked like synchronized robots, as the man with the magical wrists dispatched them repeatedly to the boundary ropes. VVS Laxman, or Very Very Special Laxman soon captured the spotlight; a man to be feared; a man to be admired by the Aussies. Each Australian tour thereafter brought rich returns for Laxman, with the exception of the current fiasco. He was soon known as the Australian surgeon, a term justified by his almost surgical way of taking the opposition apart.
A vivid summer afternoon fills the memory. Adelaide 2003. The man known as The Wall defied the Australians for hours on end, scoring a monumental double century, backing it up with a substantial knock in the second innings, carrying India to a historic victory at the unlikeliest of locations. Rahul Dravid had added another impressive feather to his cap; for earning respect in this part of the world was achieved by not one's prior reputation, but by how he fared against their attack on their home turf.
These three came together in the early 2000s to form the core of the Indian batting. Their substantial middle-order contributions helped the Indian team win series victories at home and abroad. Due to their sincere efforts, the team gradually shed the tag of 'Lions at home, Lambs abroad'. Under an inspirational captain in Sourav Ganguly, who took no nonsense from any quarter, they combined almost seamlessly to form an efficient batting machine; the best in the world. Series wins in England and the West Indies followed, with drawn series in Australia and South Africa being the proverbial icing on the cake. Unsurprisingly, the result of their hard work over the decade was the No.1 ranking in tests, a mark which every test-playing nation strives to reach. The Australia series was hence seen as an opportunity to sign off in style, to write a dynamic last chapter to the book which had endeared so many over the years. However, that was not to be, and the trio's dream of winning a test series in Australia will always remain a dream.
As these three giants near the end of their playing days,it seems that the inevitability of age has caught up with them. The reflexes are slower, the defense has loosened, the ball is not sighted as quickly. After all, every warrior has to retire at some stage, and every product has its use-by date. From the evidence of the past few series, it is not erroneous to conclude that they are past their retirement days. Maybe they themselves know that. Maybe they just wanted to have a final crack at an old enemy, in an attempt to fulfill certain aspirations, or to stand once again gloriously on that hallowed turf. Either way, a final opportunity presents itself; to prove to the world that a spark still exists, that the lamp has not completely burnt out. For diamonds remain diamonds.
When the dust has finally settled, and the Three Musketeers bow out, the youngsters coming in will be compared to the trio in their heyday. Statements will be made, and their feats will be remembered by true, non-fickle minded lovers of the game. And they will yearn for just another of Sachin's straight drives, or Laxman's flicks from outside off stump, or for a look at Dravid's impregnable defense. Au revoir, Masters of yore! Au revoir, The Three Musketeers!