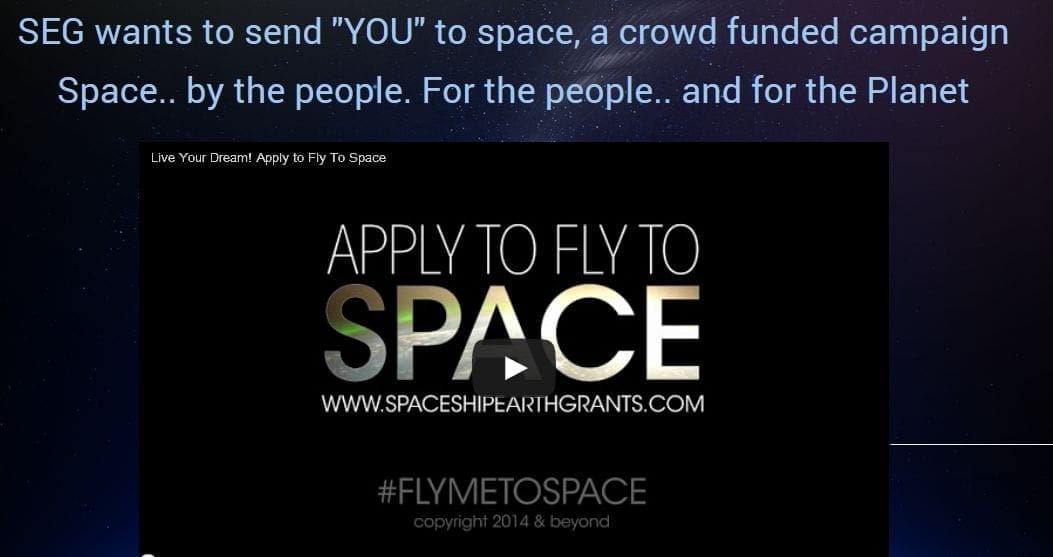 Shubham Garg, the Chief Visionary Officer of Star Harbor Space Training Academy, a rocket scientist by training,? is an alumnus of the University of Southern California and India's Manipal University.
Spaceship Earth Grants (SEG), made up of former NASA astronauts, former NASA administrators, aerospace experts, and space enthusiasts, is committed to the democratization of space. This public benefit corp. has also been created on the principles of social business laid out by Nobel Peace Laureate Muhammad Yunus.
In 1961, the first man went to space. Since then, in the past 53 years, less than 600 people have gone to space. That means the likelihood of going to space is currently 1 in ~13,000,000. The upcoming private space industries are an exciting opportunity, however their tickets priced up to $250,000 makes it available only to a select few.
?I went into space twice and it fundamentally changed my life. I want others to have the same experience,? says Leland Melvin, the former NASA space shuttle astronaut who now serves as president of SEG. ?I?ve read some of the responses on the applications. I felt like crying; people have wanted to do this for so long.?
Launched on Sept 15th, 2014 SEG is the world?s first global crowdfunded scholarship program to send people to space. Because "while space is thrilling, it's not just about the thrill ride." Seeing Earth from space transforms astronauts in such a way that they want to come back and in turn transform the world.? Our intent is to enable more people to have the transformational experience of seeing the Earth from space. We then would like to see them come back and share their experience through their music, art, writings, voices such that the transformation inspires other people to also take on positively impacting the planet.
Joining the crowdfunding campaign will cost $15-$90USD depending on the wealth of your home country. Currently the likelihood to having been to space is approximately 1 in 13M.? ?With the funds given to SEG, 1 in every 50,000 people will be selected to go to space. A very unique feature of our campaign is that as more applications are received, SEG will increase the award rate to as high as 1:25,000, making SEG the only spaceflight award contest where the odds of winning go up as more people participate! The remainder of the money will be converted to Spaceship Earth Organizational Grants. These grants will be given to projects and organizations that are positively impacting the planet and improving the quality of life on earth.
To apply to fly to space, visit www.spaceshipearthgrants.com.
You can read an interview with Shubham Garg here.